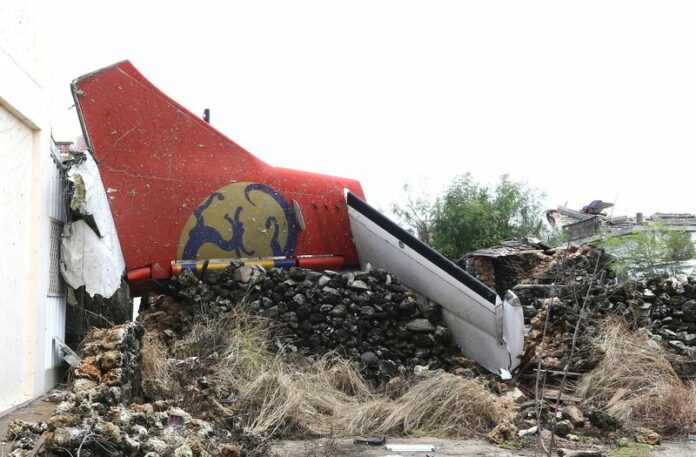 By Dennis Engbarth
TAIPEI (DPA) — The chief pilot of the TransAsia Airways plane that crashed on Penghu Island "had the power to decide" whether to ground the aircraft or try for another landing, a senior Civil Aeronautics Administration (CAA) official said Thursday.
Flight GE222 crashed Wednesday into a residential neighbourhood after an apparent failed attempt to land at Penghu's Magong Airport.
Aviation authorities said 48 people died and that there were 10 survivors. The state-run Central News Agency reported that 32 bodies had been identified. Five local residents were injured.
The ATR-72 plane, with 54 passengers and four flight crew on board, took off from Kaohsiung International Airport in southern Taiwan just before 6 pm (1000 GMT) Wednesday after a nearly two-hour delay, the agency reported.
Officials said there were two French citizens on the plane and the others were Taiwanese.
Landing conditions at Magong Airport were within acceptable parameters when the plane crashed, Deputy Director General Lee Wan-li told reporters at CAA headquarters.
The Aviation Safety Council (ASC) "will examine the aspects of the piloting of the aircraft, climate conditions, the aircraft's structural integrity, air traffic control contacts and other factors, and do its best to find the reasons in order to avoid any recurrence," Prime Minister Jiang Yi-huah said.
Lee said visibility was 1,600 metres, and wind speed of 13 knots and cross-wind-speed of 21 knots did not exceed safety limits for the ATR twin-engine turboprop, despite "moderate" thunderstorms trailing Typhoon Matmo.
"If the chief pilot felt that anything was not right, he had the power to decide whether to try a landing or go around again or divert to another airport," Lee said.
Investigators were to bring the flight data recorder and cockpit voice recorder to Taipei, where the ASC was to decode the data.
Investigators from French aviation safety agency BEA, France-based ATR Aircraft Co and Pratt & Whitney Canada – the manufacturer of the ATR's two engines – were invited to join the investigation and were expected to arrive Friday.
The airline said relatives of the victims were flown to Magong airport early Thursday.
Captain Lee Yi-liang reportedly had 22 years of flight experience, while first officer Chiang Kuan-hsing had two-and-a-half years' experience.