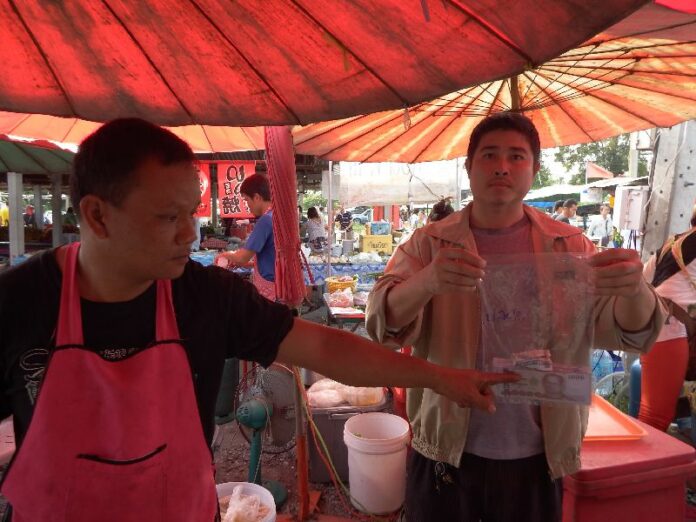 CHONBURI – Fake 1,000 baht bills have been spotted in Chonburi, eastern Thailand, a week after similar counterfeit banknotes surfaced in the southern province of Trang.
Vendors at Chonburi province's Sri Phalothai Market told police yesterday that they have been duped into receiving the fake 1,000 baht banknotes, which are the highest-value bill in Thai currency, over the weekend.
One of them, Somsak Angkhanavin, a 62-year-old butcher, said a group of "5-6" patrons bought several kilograms of his pork at the stall on Sunday, each paying him with a 1,000 baht note. Mr. Somsak said he was about to refuse the notes because he heard about the news about fake notes in Trang province, but decided to accept them anyway "out of respect."
The vendor said he later realised the notes were fake.
On the same day, Pilawat Srithai, a 22-year-old chicken vendor, reported to the police that he found a bag full of fake 1,000 baht bills underneath a tree next to the market. Mr. Pilawat claimed he found the bag on his way to toilet, and discovered fake-looking banknotes in the bag when he opened it.
Police confirmed that all 70 banknotes found in the bag are counterfeit. All of the banknotes bear the serial number 2D7874400, according to the police.
The fake banknotes first struck Trang province in late July. The fact that the counterfeit notes are also found in Chonburi – more than 900 km away – raises concerns among many shop owners and vendors that many more banknotes might be in circulation at the moment.
In an effort to contain the counterfeit banknotes, Bank of Thailand today dispatched officials to teach vendors in markets across Trang province how to spot a fake 1,000 baht bill.
"There are three easy ways to spot them," said Sawitri Kaewdaeng, a senior official of the Bank of Thailand's office in Trang province, "Touch, hold them up against the light, and slant them."
Many vendors also asked the bank officials to verify their banknotes, fearing that they might have been victims of the scam. One vendor showed up with a fake banknote, Ms. Sawitri said, adding that the counterfeit item has been sent to the police for further investigation.
Ms. Sawitri did not identify the serial number found on the fake banknote, but Trang police previously warned the public to look for 1,000 baht bills with serial number 9A3828862.
Those convicted of counterfeiting money can face up to 20 years in prison and a fine of 40,000 baht. Those who deliberately use counterfeit banknotes are also subject to up to 15 years in jail.
For comments, or corrections to this article please contact: [email protected]
You can also find Khaosod English on Twitter and Facebook
http://twitter.com/KhaosodEnglish
http://www.facebook.com/KhaosodEnglish