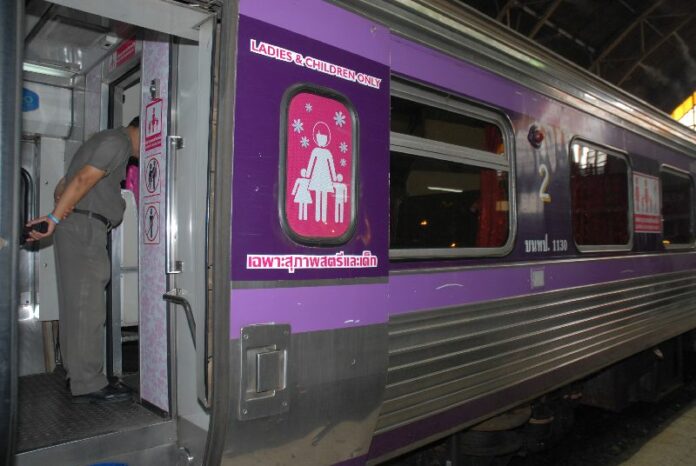 SONGKHLA – Passengers on a southbound train were reportedly robbed while asleep just metres away from the ladies-only car installed in the wake of a deadly rape on the same rail route last month.
The incident took place at around 3 am on Thaksin (southbound) Express Train no. 37, which was traveling from Bangkok to Narathiwat province this morning, police said.
According to Pol.Col. Witset Ketpan, deputy commander of Thai Railway Police, nine out of thirty passengers in the car said their phones and cash were stolen. The thief removed the sim cards from the stolen phones and left them behind, in order to avoid tracking from the police, Pol.Col. Wiset said.
"I believe the thief was on the same car," Pol.Col. Wiset said.
Pathom Pinakan, a volunteer ranger who was traveling with three squad mates, said he and his companions were asleep when the theft happened and only discovered that their belongings were missing when they woke up at 6 am. He also suspected that he and other victims may have been drugged by the perpetrator.
"Many other passengers were also robbed," Mr. Pathom said, "Everyone said the same thing: they were sleeping very deeply. Some also felt dazed when they woke up. It's possible all of us in the car were drugged."
However, Pol.Col. Wiset said it is "very unlikely" that the victims were drugged because some of passengers were still conscious when the theft occurred, though he said police will investigate the claim very seriously.
Cpt. Panomnoi Thiplai, a police officer at Hat Yai Train Station, said the perpetrator may have departed the train with some other passengers at Thoong Song Train Station in Surat Thani province. He told Khaosod that police have combed every passenger on the train and none of them are considered suspects at the moment.
Theft, rape, and murder
The incident is bound to stir a new round of criticism and scrutiny toward the State Railway of Thailand (SRT) regarding its security measures, especially because the theft happened just next to the special "lady-only" sleeping car, which officials promised would be a safe environment for women and children passengers.
The lady-only car was installed after the horrific rape and murder of a 13-year-old girl on the same train route in July.
Wanchai Saengkhao, a 22-year-old cleaning staff on the train, confessed to sexually assaulting the girl in her sleeping cabin and throwing her body overboard afterwards. The suspect also claimed he committed the crime because he was drunk and high on amphetamines at the time. He is currently awaiting a trial for charges of premeditated murder, sexual assault, theft, and drug abuse in a prison.
The rape and murder sparked a wave of outrage among the Thai public, even leading some citizens to defy the martial law ban on public protests to stage demonstrations calling for punishing convicted rapists with the death penalty. Meanwhile, a number of women also avoided using the SRT night trains, preferring public buses instead.
Pol.Maj.Gen. Thanang Buranon, commander of Thai Railway Police, said today that the police have been doing their best to provide security to the passengers on the trains.
He claimed that no passengers in lady-only sleeping car were harmed when this morning's theft took place because there were volunteer rangers and police officers guarding the car at the time.
"However, we will urgently come up with new measures to prevent further incidents, "said Pol.Maj.Gen. Thanang.
For comments, or corrections to this article please contact: [email protected]
You can also find Khaosod English on Twitter and Facebook
http://twitter.com/KhaosodEnglish
http://www.facebook.com/KhaosodEnglish