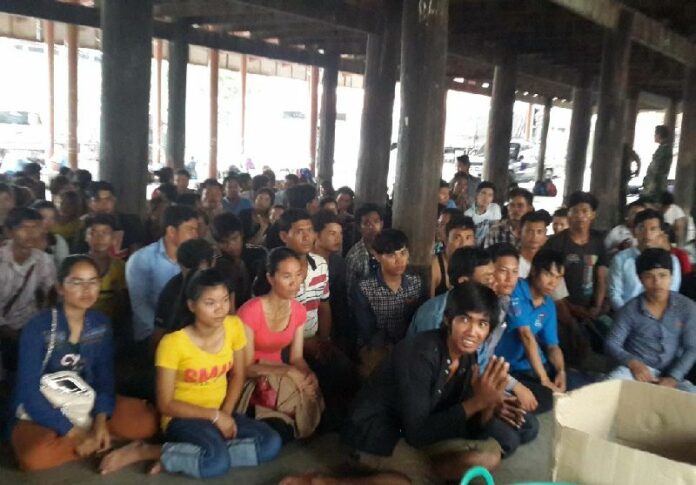 UPDATE: The manager of BS Work company, Wirat Phandontri, has identified himself as the Cambodians' legitimate employer, citing a "misunderstanding" on the part of the group's van drivers.
Read the updated article here.
SAMUT SAKORN – Almost 200 Cambodians were stranded outside of Bangkok early this morning after a Thai broker scammed them with the promise of illusory jobs in exchange for 20,000 baht each.
The Cambodian migrants, 117 men and 63 women, were found at around 2 am this morning following a tip off, said Pol.Lt. Boonliang Wansamngan, an officer at Krathoom Ban Police Station.
Police sent the Cambodians to Wat Tha Sao Temple where monks provided them with food, water, and accommodation. Officials from Ministry of Labour arrived at the temple later in the day to gather information about the group.
"Some of them haven't eaten for a whole day," said Pol.Lt. Boonliang.
According to Pol.Lt. Boonliang, the migrants said a Thai broker told them he needed 200 Cambodians to work in Thailand, where they could 300 baht per day. The broker also reportedly promised the workers they could earn at least 20,000 baht per month if they worked overtime.
The migrants said the Thai broker, who was not named, charged each of them 15,000-20,000 baht for the service; those who already owned passports were able to pay less.
The broker then allegedly smuggled the group into Thailand on 19 August and placed them in a residential building while those without passports applied for migrant worker IDs in Pong Nam Ron District, Chantaburi province. However, unlike legitimate workers' documents, the IDs lacked the names of Thai employers, the migrants reported.
Once all of the migrant workers received their IDs, they were instructed to board 12 vans and told that they would be taken to work at two factories and a construction site in Samut Sakorn province, Pol.Lt. Boonliang said.
But one of the van drivers "suddenly felt pity" and confessed to the Cambodians that they were victims of a scam. He then called the police and convinced the other vans to drop the passengers off in Samut Sakorn province.
Pol.Lt. Boonliang said the case is under investigation.
Thailand is home to hundreds of thousands of undocumented Cambodian migrant workers who come to Thailand through smuggling networks. Their undocumented status often makes them vulnerable to abuse by their employers, smugglers, and corrupt authorities.
In July, six Cambodian women were allegedly raped by Thai brokers who smuggled them into Thailand.
Shortly after the military junta staged a coup on 22 May, more than 200,000 Cambodian workers fled the country en masse, fearing a possible crackdown on undocumented migrants. Many of the migrants have returned to Thailand, while the junta's National Council for Peace and Order (NCPO) has launched efforts to reform the migrant worker system and legally register alien workers.