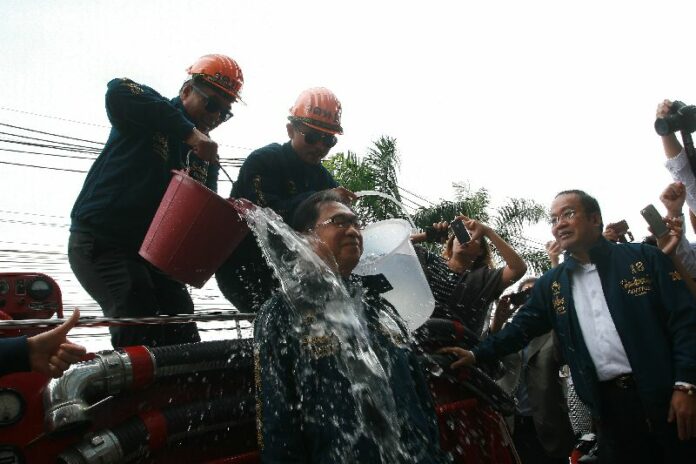 BANGKOK — The spokesperson for Thailand's military junta has requested more time to consider whether he will participate in the viral "Ice Bucket Challenge."
Col. Winthai Suwaree was "challenged" yesterday to pour a bucket of ice water over his head by Nattakorn Devakula, a talk show host at Voice TV, which was taken off the air by the military junta in May.
"Let me think about it first," Col. Winthai said in a press conference today, "I won't accept the challenge for now."
The challenge is part of an ongoing social media campaign that began in the United States this summer to raise awareness about ALS, a neurodegenerative disease with various causes. It requires pouring a bucket of ice water over oneself and then nominating another person to do the same within 24 hours or donate to the ALS Association.
Col. Winthai continued, "Charity is a good thing, but an activity that I have to pour water over myself? I have to study it in detail first."
The spokesperson added that the junta chairman, Gen. Prayuth Chan-ocha, has not responded to his Ice Bucket Challenge either; Gen. Prayuth was "nominated" on Monday by the host of a popular online talk show.
"I haven't met with Gen. Prayuth yet, and I don't know whether he has already been informed about the challenge," Col. Winthai told reporters. "I guess he doesn't know about it yet, because he has not given me any comments about it."
Meanwhile, US Ambassador to Thailand, Kristie Kenney, accepted the Ice Bucket Challenge from former Transport Minister Chatchart Sittipan today. Ms. Kenney posted a photo of herself completing the challenge on her Twitter account.