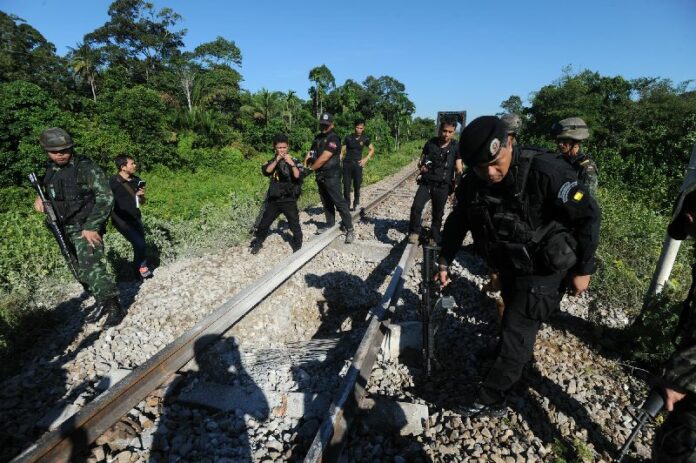 NARATHIWAT — A bomb on a train track this morning in the restive southern province of Narathiwat has forced 14 train services to halt their operation in the region.
The explosion took place early today at 1104 km mark of the rail track in Tanyonglimo district, security officers said. Army Rangers later investigated the area and discovered that the blast severely damaged the track for 20 metres.
Sgt. Dussadee Kongpat, squad leader of the Rangers, said the explosive was likely concealed in a gas tank and remotely detonated. No one was injured by the blast, Sgt. Dussadee added, but all trains in the vicinity had to immediately stop their services and tell their passengers to get off at the nearest station.
Officials from the State Railway of Thailand (SRT) say 14 rail services have been suspended until the track is fully repaired. Officials did not give an estimate of when the repair work will be completed.
Army units in Narathiwat province responded to the attack by setting up more checkpoints and inspecting vehicles for suspicious material.
Narathiwat and two other southern border provinces, Yala and Pattani, have been a hotbed of separatist violence that pits suspected Islamist insurgents against security forces in the region. Over 6,000 people have been killed in bomb attacks and shootings since 2004.
For comments, or corrections to this article please contact: [email protected]
You can also find Khaosod English on Twitter and Facebook
http://twitter.com/KhaosodEnglish
http://www.facebook.com/KhaosodEnglish