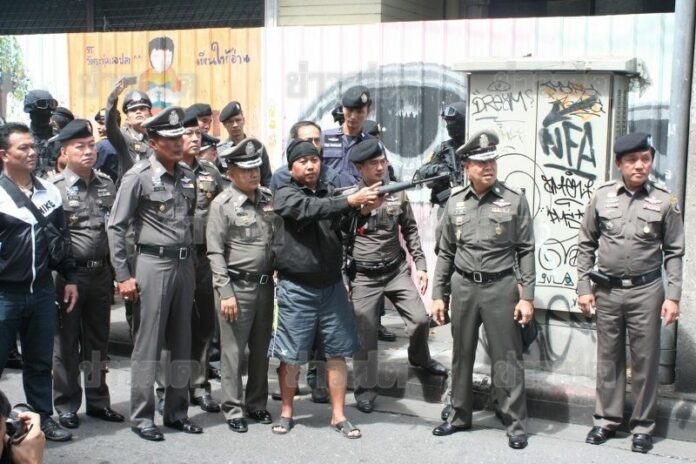 BANGKOK — Thai Police are seeking the extradition of a 26-year-old Redshirt activist who allegedly engineered violent attacks on security forces during the political unrest in Bangkok in 2010.
Kritsuda Kunasen has been accused of financing and supplying military-grade weapons to a group of "Blackshirt" armed militants who fired at soldiers during clashes between Redshirt demonstrators and security forces in Bangkok on 10 April 2010. Five soldiers and 20 civilians were killed in the violence.
"I am aware that she is in a foreign country," Pol.Gen. Somyot Pumpanmuang, Thailand's new police chief, said yesterday, "I will instruct the Office of Attorney-General and the Ministry of Foreign Affairs to have her extradited to Thailand for legal prosecution."
He did not say where Ms. Kritsuda is currently residing.
Pol.Gen. Somyot insisted that police have pay slips, money transfer records, and even employment contracts linking Ms. Kritsuda to the 2010 Blackshirt militants. Five suspected Blackshirt militants were arrested on Thursday, all of whom confessed to the charges, Pol.Gen. Somyot claimed.
The military detained Ms. Kritsuda without charges for 27 days before releasing her on 24 June, exceeding the seven-day limit on arbitrary detention that authorities respected for the majority of other detainees. The activist later fled to Europe and claimed she was tortured and abused during her detention. The junta's National Council for Peace and Order (NCPO) has repeatedly denied the allegation.
Pol.Gen. Somyot previously alleged that Ms. Kritsuda was also the mastermind behind the shadowy armed elements that launched grenade and gunfire attacks on anti-government protest camp sites in Bangkok earlier this year. Almost 30 people were killed during the campaign against the government of Prime Minister Yingluck Shinawatra, which ended in a military coup on 22 May.
"We have evidence, in documents, that point to the purchases of these weapons," Pol.Gen. Somyot said at a press conference on 10 August. "We also have witnesses, the suspects who have been arrested, who say they received many military-grade weapons from Ms. Kritsuda."
Redshirt supporters have accused the Thai police of fabricating evidence and charges against Ms. Kritsuda to punish her for speaking out about her ordeal in military custody.