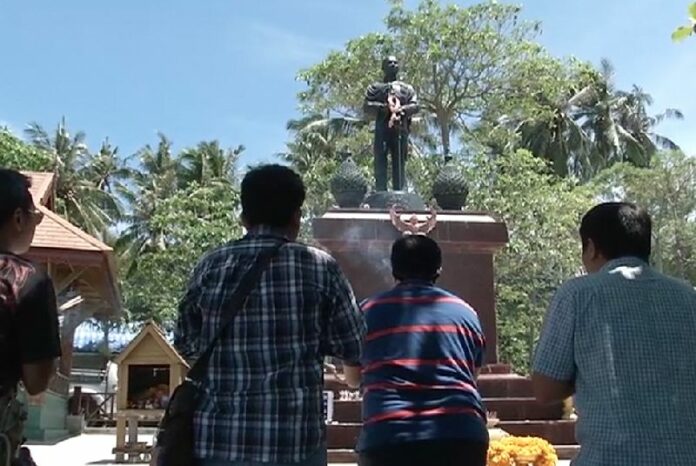 BANGKOK — Thailand's new police chief has brushed off media reports that there is "mafia" network on the resort island in Southern Thailand where two British tourists were murdered last week.
David Miller, 24, and Hannah Witheridge, 23, were found beaten to death on Koh Tao on the early morning of 15 September.
Police have yet to arrest any suspects as none of the DNA samples taken from more than 30 people in the past week have matched the DNA traces found on Witheridge's body.
According to a number of journalists on the island, locals say they are wary about speaking openly about the case for fear of reprisal from powerful island families that "run the show."
But Pol.Gen. Somyot Pumphanmuang dismissed the allegations of a mafia network on the island today.
"If there really is a mafia, locals and police detectives would have informed me already," Pol.Gen. Somyot said.
Pol.Gen. Somyot insisted that residents on the island have helpfully cooperated with police in their effort to identify and arrest the culprit. He said the police investigation has seen a lot "progress," though he did not elaborate on the details.
Though Koh Tao is widely considered a peaceful and idyllic island getaway, reports from the UK-based The Telegraph and The Daily Mirror, and Thailand-based Bangkok Post have painted a grimmer picture of the island: a popular tourist destination that is under the grip of "dangerous" families with powerful connections. The reports claim that many residents have chosen to remain silent in the aftermath of the murder, raising speculations that shady mafia may be involved in the killing of Witheridge and Miller.
Last night, 25-year-old Scottish tourist Sean McAnna, who was a friend of Miller, fled Koh Tao after telling the British Embassy and press that his life was threatened by two Thai "mafia" on the island.
The Scotsman claimed the pair of gangsters cornered him and threatened to hang him to death because of his knowledge about the murder.
Police say McAnna is currently under police protective custody and assisting with the ongoing investigation.
For comments, or corrections to this article please contact: [email protected]
You can also find Khaosod English on Twitter and Facebook
http://twitter.com/KhaosodEnglish
http://www.facebook.com/KhaosodEnglish