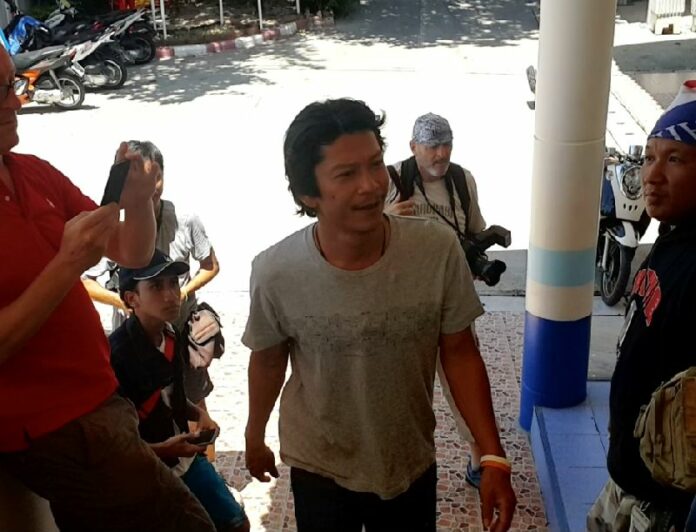 BANGKOK — The prime suspect behind the brutal killing of two British backpackers on an island in southern Thailand is currently hiding in the capital city, police say.
Warot, 22, reportedly fled Koh Tao shortly after David Miller, 24, and Hannah Witheridge, 23, were found beaten to death on one of the island's beaches last week.
Police say Mr. Warot is currently the primary suspect as DNA test results have cleared all others previously detained by police.
Police reportedly collected DNA samples from 160 residents on the island, many of them Burmese migrant workers, in an effort to find a match with the DNA traces found on Ms. Witheridge's body and a cigarette near the crime scene.
The police hunt for Mr. Warot, who is the son of a influential figure on the island, came amid reports that the stalling police investigation may be related to the influence of "powerful families" on Koh Tao.
Mr. Warot's father, a Village Headman (local administrator) on the island named Woraphan Toowichian, visited the police station on Koh Tao yesterday to provide testimony and a DNA sample. His brother, Montriwat Toowichian, also met with police and was questioned for several hours before being released.
Police have provided conflicting reports about whether forensic tests have cleared the two men of a connection to the murder.
Mr. Montriwat is the owner of AC Bar on Haat Sai Ri beach, where Mr. Miller and Ms. Witheridge were seen having drinks on the night they were murdered. Police also believe Mr. Montriwat is the man who was seen "behaving suspciously" on CCTV footage that night.
Two days ago, a Scottish man who worked at AC Bar claimed Mr. Montriwat and another Thai man cornered him in a convenience store on the island and accused him of being behind the murders.
The expat, Sean McAnna, fled the island out of fear for his life on 22 September, media reports say.
Speaking to reporters yesterday, Mr. Montriwat said he is entirely "innocent." He also disputed reports that Mr. Miller and Ms. Witheridge were involved in a row at the bar he owned prior to their deaths.
Mr. Montriwat said it was actually the Scotsman who should be treated as a suspect. "On the night of the murder, a spa worker told me [he/she] helped clean splatters of blood from Sean's body."
He also claimed that he and his friend cornered Mr. McAnna because they wanted to question him about his whereabouts on the night the two Britons were killed.
Read more:
Britons' Murder: Police Chief Dismisses Koh Tao 'Mafia' Allegation
For comments, or corrections to this article please contact: [email protected]
You can also find Khaosod English on Twitter and Facebook
http://twitter.com/KhaosodEnglish
http://www.facebook.com/KhaosodEnglish