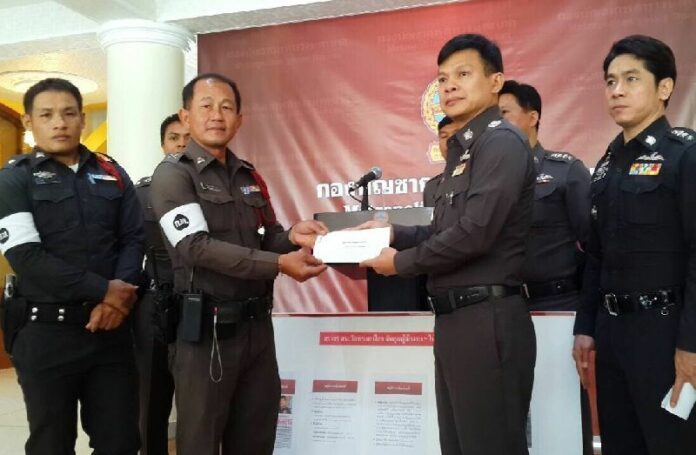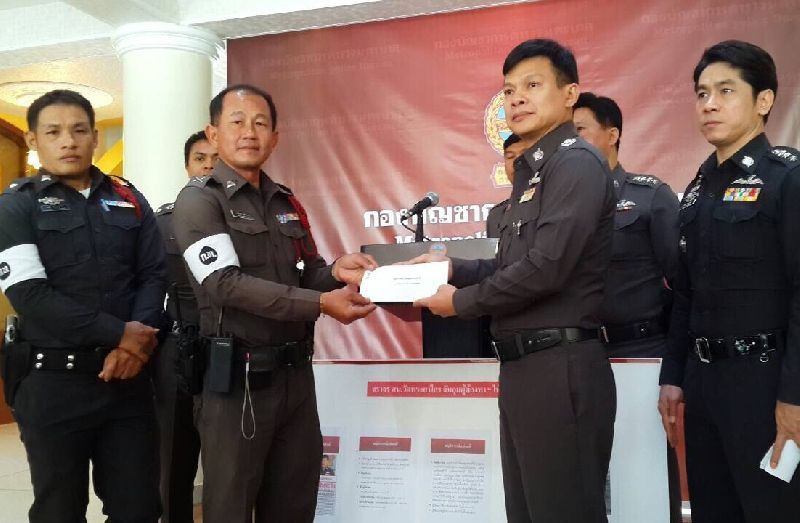 BANGKOK — In a new effort to combat corruption among Thailand's law enforcement agencies, the Metropolitan Police department has started giving out monetary rewards to officers who refuse to accept bribes.
Today, a traffic police officer received a 10,000 baht reward for declining a 100 baht bribe from a motorcyclist.
According to police, the motorcyclist, identified as Banterng Thongpaan, was about to be fined for making an illegal left turn when he offered Pol.Sgt. Narin Fakbumrung 100 baht to let him off without any charges.
"Pol.Sgt. Narin  immediately photographed the bribery attempt with his mobile phone and escorted the suspect to the police station for legal procedure," said Pol.Maj.Gen. Adul Narongsak, deputy commander of the Metropolitan Police.
He said Banterng has been charged with bribing state officials.
Traffic police officer Pol.Sgt. Narin said he regularly turns down bribes from motorists.
"I always tell them, please don't give me bribes because I have to arrest you," Pol.Sgt. Narin said. "In this latest case, too, I told him please don't do it."
He said he wasn't aware of the 10,000 baht reward campaign when he confronted Banterng, but welcomed the idea because it could help incentivise police officers to perform their duties more strictly.
Under Thai laws, those found guilty of bribing state officials can face up to five years in prison, while accepting bribes from the public can land state officials in jail for life.
However, in reality bribery is extremely common among the Thai police force, and traffic laws are often poorly enforced.
Pol.Maj.Gen. Adul said the campaign was launched on 4 October to encourage "honesty and dignity."
"I'd like to tell the public to strictly follow the traffic laws," Pol.Maj.Gen. Adul said. "When they are lawfully arrested, please proceed to pay the fine in a legal manner. Do not try to bribe the police."
For comments, or corrections to this article please contact: [email protected]
You can also find Khaosod English on Twitter and Facebook
http://twitter.com/KhaosodEnglish
http://www.facebook.com/KhaosodEnglish