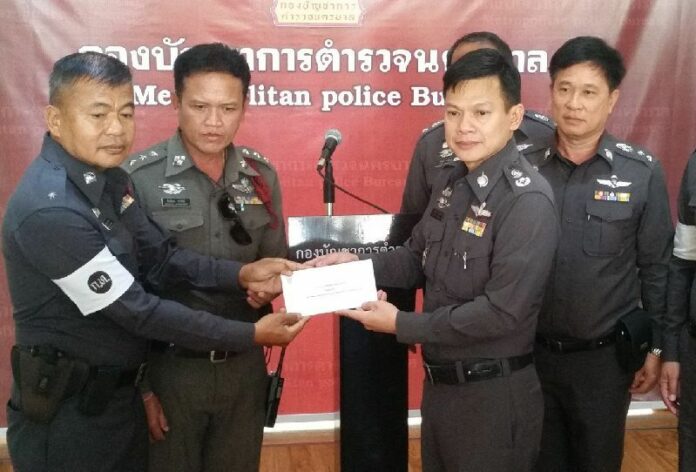 BANGKOK – The Metropolitan Police Bureau has defended the 10,000 baht cash reward it's giving out to traffic police officers who refuse to accept bribes.
Pol.Maj.Gen. Adul Narongsak, deputy commander of the MPB, said today that the reward is a "morale-boosting" instrument that encourages police officers to perform their duties honestly. The reward is a part of the anti-bribery campaign launched by Bangkok police on 4 October.
He went on to dismiss accusations from the public that the 10,000 cash reward is unnecessary as police officers are already required by law to turn down bribes.
"Police commanders have to respond appropriately to the success or failure of their agencies," said Pol.Maj.Gen. Adul. "In the past, we have also handed out rewards to police officers as a morale-boosting method, such as the Traffic Police Gentleman Award, certificates, and trips to study police operations in foreign countries."
The officer also hopes that the cash payment will help reduce the widespread problem of police officers extorting bribes from motorists, and added that the public can assist the police force by snapping photos or filming police officers who take bribes.
"It's a way to help improve our society. I admit that police commanders cannot monitor the behaviour of their subordinates adequately, so if there's any photo or video of such actions, we will harshly punish the officers," said Pol.Maj.Gen. Adul.
Today, the cash award was handed out to Pol.Lt. Rachan Chomsuwan for turning down a 50 baht bribe offer from a pick-up truck driver who allegedly broke traffic laws near Phang Mueang Intersection yesterday morning.
The motorist has been identified as Wanchai Saengsutta, 25. Pol.Maj.Gen. Adul said he was arrested shortly after he attempted to bribe Pol.Lt. Rachan.
Under Thai law, those found guilty of bribing state officials can face up to five years in prison, while accepting bribes from the public can land state officials in jail for life.
However, in reality bribery is extremely common among the Thai police force, and traffic laws are often poorly enforced.
Read more: Policeman Rewarded 10,000 Baht For Declining Bribe
For comments, or corrections to this article please contact: [email protected]
You can also find Khaosod English on Twitter and Facebook
http://twitter.com/KhaosodEnglish
http://www.facebook.com/KhaosodEnglish