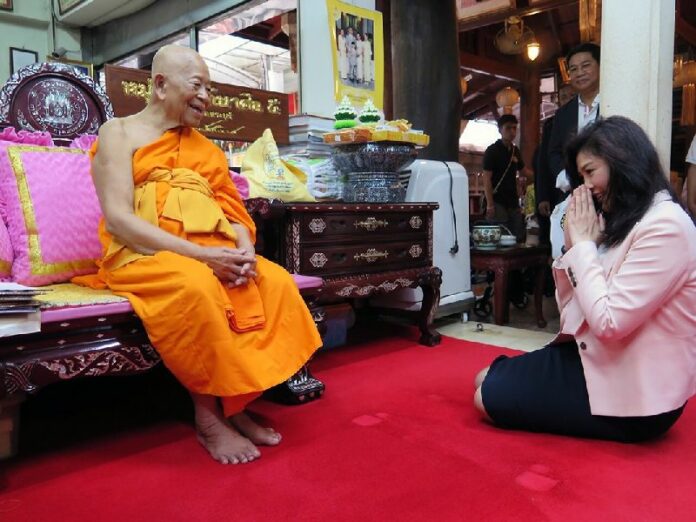 BANGKOK – The Office of Attorney-General has yet to take up the corruption case against former Prime Minister Yingluck Shinawatra, due to a lack of sufficient evidence submitted by the National Anti-Corruption Commission (NACC).
"The case filed by the NACC is still incomplete," said Chutichai Sakakorn, a leading member of the Office of Attorney-General (AG). "The AG will continue to consider the matter and re-convene another meeting to decide whether we will prosecute the case in the Supreme Court's Division for Persons Holding Political Office."
NACC representatives were meeting with the AG today to discuss the unfinished case file.
In July the NACC found Yingluck guilty of negligence that led to massive corruption in the rice-pledging scheme, a key policy undertaken by her administration. According to the NACC, Yingluck's failure to tackle corruption cost the Kingdom more than 500 billion baht in damages.
Under Thai laws, the NACC could ask the AG to prosecute the former Prime Minister in the Supreme Court's Division for Persons Holding Political Office. Yingluck could be banned from politics and face up to 10 years in prison if found guilty by the court.
However, the AG has refused to take up the case due to a lack of clear evidence that implicates Yingluck in the corruption. Last month, a spokesperson of the AG Office criticised the NACC for citing an academic paper as a proof of Yingluck's involvement in the graft, yet only attaching a photocopy of the paper's cover page in its case filing.
It later emerged that the paper in question was also published before the rice mortgage scheme kicked off.
Sansern Poljiak, sec-gen of the NACC, admitted today that the Commission failed to convince the AG to accept the case.
"Each side has to go back to work on the case, and come back for another meeting," Sansern said.
Sansern suggested that if the AG ultimately decides not to take up the case against Yingluck, the NACC may be able to act as the prosecutor in the trial instead.
Although the NACC insisted that its anti-graft crusade against Yingluck is impartial and in accordance with the rule of law, supporters of Yingluck view the case as an attempt by the NACC and other so-called "independent agencies" to dismantle the political base of Yingluck and her allies.
Critics of the NACC point to the contrast of the agency's aggressive effort to pursue corruption charges against Yingluck and its 'hands-off' attitude toward the military junta and its legislative bodies.
The NACC previously ruled that members of the Cabinet and the National Reform Council (NRC) are not obliged to declare their assets, as opposed to the usual requirement for political officer holders in Thailand.
Read more: NACC Given Two Weeks To Polish Corruption Case Against Yingluck
For comments, or corrections to this article please contact: [email protected]
You can also find Khaosod English on Twitter and Facebook
http://twitter.com/KhaosodEnglish
http://www.facebook.com/KhaosodEnglish