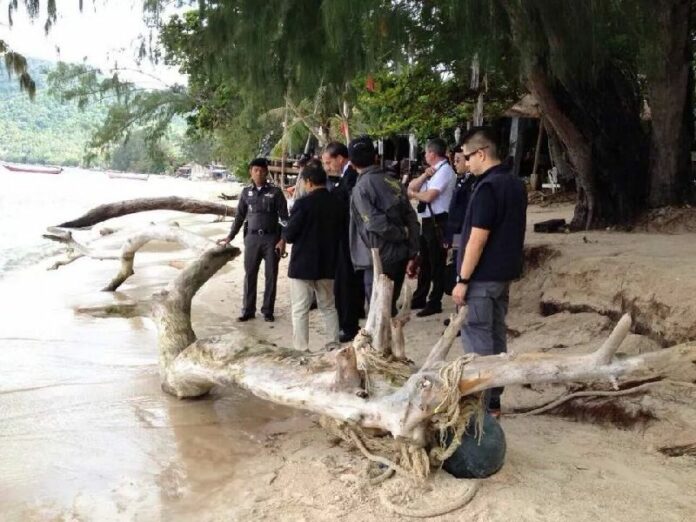 SURAT THANI – The governor of Surat Thani has ordered a ban on all beach parties in the southern province, except for the world-renowned full moon party, to minimize crimes against tourists after two British backpackers were brutally murdered on a resort island last month.
On September 15, the bodies of Hannah Witheredige, 23, and David Miller, 24, were found beaten to death on a beach on the idyllic island of Koh Tao.
The governor of Surat Thani, Chatpong Chatraputi, decided to ban all beach parties in the province, including the Shiva Moon, Black Moon, and Half Moon parties, in an effort to curb the crimes that he says have damaged the tourist industry's reputation.
However, the notorious full moon party – one of the Kingdom's biggest tourist draws – will be permitted to take place every month on Koh Phangan's Haad Rin beach, the governor ordered. The full moon party was also one of the only events exempted from the evening curfew imposed by the military after it declared martial law and staged a coup d'etat in May.
Wannee Thaipanich, chairman of Phangan tourism association, said the order will hurt the local tourism industry but agreed that beach parties need to be safer.
He suggested authorities set up surveillance cameras and deploy security officers around the parties to improve the image of the islands in the wake of the murder.
Last month, Thailand's tourism minister also proposed giving out wristbands to help identify tourists who are lost or in trouble, and floated the idea of using an electronic tracking device to monitor them.
The murder of Witheridge and Miller turned a global spotlight onto what many were calling the "underbelly" of Thailand's popular resort islands, which are flooded with illegal drugs and allegedly run by "powerful families." Police's investigation also became an international controversy after the two Burmese migrant workers they arrested recanted their confessions and accused police of torturing them.
Over the weekend, British police arrived on Koh Tao to inspect the crime scene and evaluate Thai police's investigation. The United Kingdom decided to dispatch its own police personnel after numerous human rights organisations called for an independent investigation into the murder, citing Thai police's history of scapegoat arrests and the two suspects' allegations of torture.
The UK government says its delegates will focus on two issues: whether forensic tests implicate the Burmese suspects as claimed by the Thai police, and whether the suspects have been mistreated while in police custody.
Prior to the Koh Tao murder, Thailand's tourist industry was suffering a prolonged slump from months of political protests and a military coup in May.