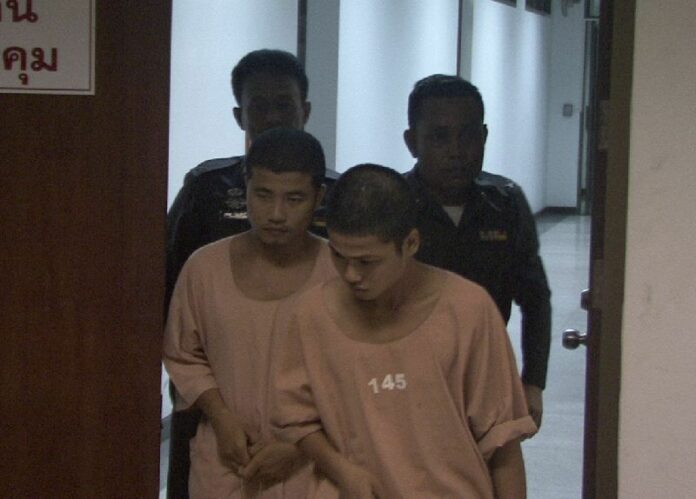 BANGKOK – A Koh Samui court has approved prosecutors' sixth request to extend the detention of two Burmese men accused of murdering British tourists in southern Thailand in September.
Police arrested Zaw Lin and Wai Phyo*, both 21, on 3 October for allegedly murdering British tourists David Miller, 24, and Hannah Witheridge, 23, on the popular resort island of Koh Tao.
Despite police's insistence that Zaw and Wai are linked to the murder through incontrovertible forensic evidence, the public prosecutor handling the case has repeatedly delayed indicting the two men, citing police's "incomplete" case files.
The two men have had their detention extended six times since they were arrested, bringing their total number of days in prison up to 60. Under Thai laws, a suspect can be detained for up to 84 days before trial.
The public prosecutor reportedly attributed the delay of Zaw and Win's indictment to the extensive amount of evidence and number of witnesses connected to the case.
Andy Hall, a human rights activists who has helped organise the defendant's legal team, released a letter penned by Zaw and Win in court today.
"We both wish to request anyone who perhaps can assist to be a witness in our case or has evidence about the crimes we are suspected of to urgently come forward and introduce yourselves to our lawyers and share your information with our defence team," the letter reads.
"This will really assist us in our defence and ensure justice is done for us, our family and the family of the victims. Please don't be scared to assist us at our time of need. May you all be happy. Thank you. Zaw Lin and Wai Phyo."
According to the suspects' lawayer, Nakhon Chompuchat, it has been difficult to convince witnesses to come forward.
Chompuchat told BBC he has been urging Witheridge and Miller's friends to share what they know about the night the pair was murdered.
"Their friends should know many things about this to prove the true situation," he told BBC.
Police initially insisted that Zaw and Wai confessed to the murder, but the two suspects later recanted their confessions in the presence of lawyers.
The Burmese men told lawyers they were tortured by police into making the confessions, an allegation police have steadfastly denied.
Numerous human rights organisations, including Amnesty International, have criticised Thai police's handling of the investigation and raised concerns that the two men are scapegoats.
In October, the United Kingdom dispatched a team of British police to Thailand to observe the investigation. A report on what the British detectives found has yet to be released.
Thai police were under an immense amount of pressure to find culprits behind the grisly murder, which authorities feared might damage the Kingdom's already struggling tourism industry.
*In previous articles, Wai Phyo was incorrectly named as Win Zaw Htun.