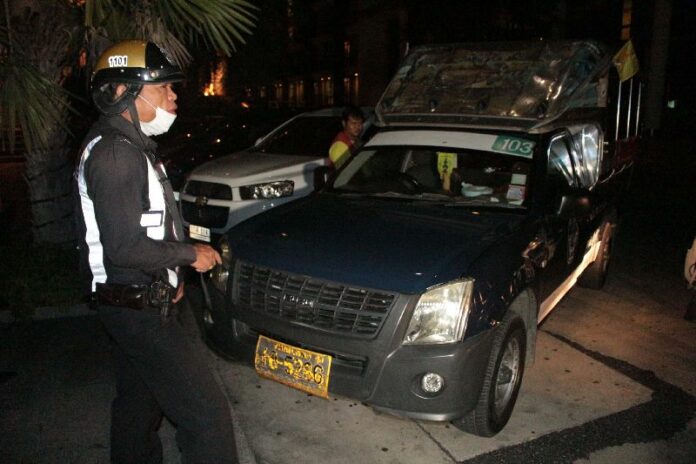 CHONBURI — The songthaew bus driver who was reportedly shot while chasing tourist-robbing thieves in Pattaya will receive an award from Thai authorities in the near future, an official said.
Ratcharot Banpaburut, 33, was shot at around 1 am on 6 December after he and his friend, Orachon Wongraruen, chased after teenagers who robbed a Chinese tourist, according to Orachon. One of the thieves reportedly fired several shots at Ratcharot's songthaew bus, and one of the bullets hit Ratcharot in his left cheek.
Representatives from the Tourist Assistance Foundation visited Ratcharot at the hospital today to express their admiration for his "bravery."
Sa-nga Kitsamret, the Foundation's director, also gave Ratcharot 20,000 baht on behalf of his organisation to assist with medical fees.
The Foundation has already contacted authorities in Pattaya to present Ratcharot with an official award for his action, Sa-nga said, adding that he hopes the robbers will be arrested soon.
Orachon told Sa-nga and other officials that she and Ratcharot intended to crash their songthaew, also known as a "Baht Bus," into the theives' motorcycle in an effort to return the belongings to the Chinese tourist.
According to Orachon, Ratcharot does not regret his decision on that night.
"He wishes well for his country. He doesn't want a bad reputation for his country," Orachon said. "But I feel sorry to see my best friend in pain."
Chakkrawan Sinkhaprom, the physician overseeing Ratcharot's recovery, said the songthaew driver's condition has greatly improved in the last few days. He noted that surgeons have not yet removed the bullet that entered Ratcharot's cheek because it is lodged near his spine.
"If we decide that an operation is too risky, we will not proceed with it, and we will just let the bullet stay there," Chakkrawan said. "I expect that Ratcharot will be well enough to go home in two or three days."
Tourist Assistance Foundation was founded by local authorities in Pattaya earlier this year to compensate foreign tourists who become victims of accidents and crimes in the resort town, which is known for its seedy nightlife and high rate of crimes against foreigners.