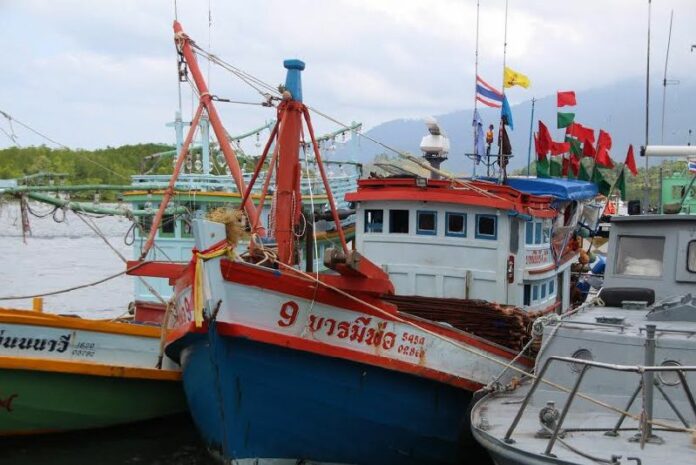 PHANG NGA — A fisherman in southern Thailand says a police patrol ship opened fire on his boat without provocation in the Andaman Sea last week.
Thongbai Thamthong, 46, captain of "Kao Baramee Por" crab boat, said his ship was hit by more than 30 bullets early on 8 December before a Royal Thai Navy ship intervened and ordered the policemen to stop firing.
Thongbai said his crew were fishing for crab, in waters well within Thailand's maritime territory, when his boat's radar reportedly showed an unidentified ship approaching.
"I thought it was an armed foreign ship … because in that region there have been many incidents of armed boats robbing Thai fishermen," Thongbai told Khaosod.
According to Thongbai, the unidentified boat continued to trail him for nearly two hours until 7am, when gunmen on the boat suddenly opened fire at him and his crew.
"We were a half nautical mile away from each other, that's when a gunshot rang. I was very afraid so I tried to escape, but the ship kept firing at my boat," he said, adding that dozens of bullets struck the radar and portside of his boat.

Thongbai Thamthong pointing at bullet holes on his ship in Rangong province, 11 Jan 2015.
"I was thinking, I would be dead if I stayed here," Thongbai recalled. He said he counted at least 30 bullet holes on his ship.
His crew managed to radio a nearby navy patrol ship, whose officers arrived quickly and detained the crew of the boat that was firing at Thongbai's ship.
Upon inspection it was revealed that the gunmen were in fact police officers, said Lieutenant Commander Thaksapon Namhorm, captain of the HMTS Si Racha, which intervened in the incident.
The police officers reportedly told the Navy captain they were on a mission to intercept human traffickers in the Andaman Sea, and mistook Thongbai's ship for a vessel smuggling Rohingya refugees. They were later released by the Navy.
Thongbai said he is furious at the police officers' action.
"If they wanted to board and inspect my boat, I would have let them, but they didn't give us any signal or sent us warning at all, unlike what the military or other official agencies do."
He said he also found it curious that the police officers were from a local station in Ranong province, whereas patrols in the Andaman Sea are normally only conducted by Marine Police.
"I think this action is very strange. It's very suspicious. The violence is excessive," Thongbai said. "If the Navy cruiser hadn't come to my aid, I would have been in big trouble."
Thongbai said he filed a complaint with Phang Nga Police Station, urging them to take legal action against the police officers.
The police have declined to comment on the incident.