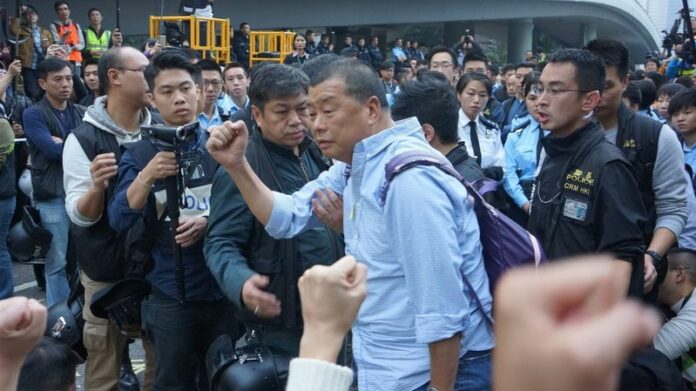 HONG KONG (DPA) — Molotov cocktails were thrown early Monday at the home and an office of a Hong Kong media tycoon associated with recent pro-democracy protests, a news report said.
No one was injured in the near-simultaneous attacks on Jimmy Lai Chee-ying's home and the offices of Next Media, the publisher of the vocal pro-democracy tabloid Apply Daily, according to a report in the South China Morning Post.
Police said they were still investigating the possible motive.
Lai has been an outspoken supporter of protests that paralyzed parts of Hong Kong for two months last year demanding that Beijing further extend reforms planned for the 2017 election of the territory's next government.
He was among several high-profile figures briefly arrested on December 13 for his involvement.
Other prominent media figures have been assaulted in the past year.
Kevin Lau, an editor at the longstanding investigative newspaper Ming Pao, was hospitalized after being stabbed in the back and legs in February. The paper has investigated and reported on the assets of top-level mainland Chinese officials.
Lai in December had a bag of offal thrown at him by a pro-government demonstrator, and the gates of his home were once rammed by a stolen car.
In 2013 three masked knife-wielding men threatened employees at Next Media and burned 26,000 copies of the Apple Daily.
Lai stepped down from executive roles at Next Media after the protests in November and December but is still the company's owner.
For comments, or corrections to this article please contact: [email protected]
You can also find Khaosod English on Twitter and Facebook
http://twitter.com/KhaosodEnglish
http://www.facebook.com/KhaosodEnglish