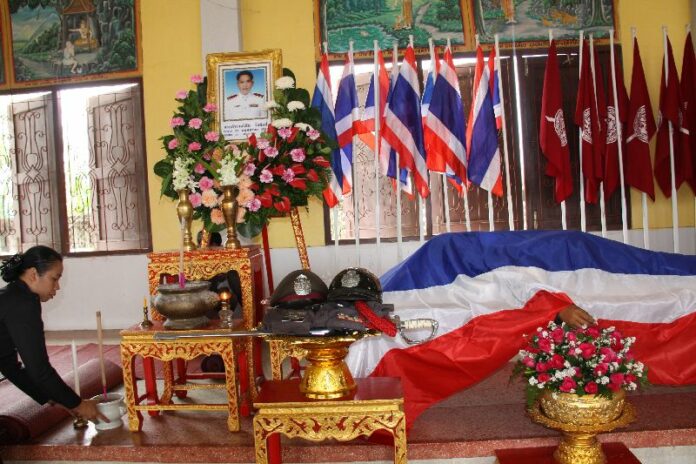 SA KAEO — Members of a teenage motorcycle gang in Sa Kaeo province allegedly hit and killed a police officer who tried to intercept them on Saturday.
Police Senior Sergeant Wichai Raksilpa was hit on Suwannasorn Road on 10 January, National Children's Day, police say.
According to police, he was part of a police operation in Sa Kaeo to intercept more than 100 members of a "dek vans," or local motorcycle gang, who were racing on the highway at the time.
Pol.Sen.Sgt. Wichai was reportedly manning his checkpoint at around midnight when he signaled at a group of oncoming motorcyclists with his flashlight to stop.
Instead, the motorcyclists sped up and hit Pol.Sen.Sgt. Wichai, throwing him 10 metres across the road, according to his patrol partner, Pol.Sen.Sgt. Charnchai Chanprakom.
Wichai was sent to hospital, but later died of his injuries at around 1 am on 11 January. The Royal Thai Police have promoted him posthumously to the rank of Police Lieutenant Colonel.
According to police, Pol.Sen.Sgt. Wichai was about to head home for the night, but decided to stay and help other officers after he received a radio call about the dek vans race.
Two suspects, both of them 16 years old, were arrested in connection to the crime, police say.
The commander of Sa Kaeo Police, Pol.Maj.Gen. Yingyot Themchamnong, has vowed to find the rest of the gang members and prosecute them "in the strictest manner."
"The police officers were using non-violent methods in their operation, but the perpetrators still attacked the officer with their motorcycles," Pol.Maj.Gen. Yingyot said. "This shows their complete disregard and disrespect of the laws."
He added that the police will work closely with the military units in Sa Kaeo to "eradicate" any dek vans gangs in the province.
"We will not allow them to cause troubles to the people ever again. No matter whose children they are, we will not let them off the hook," he said.