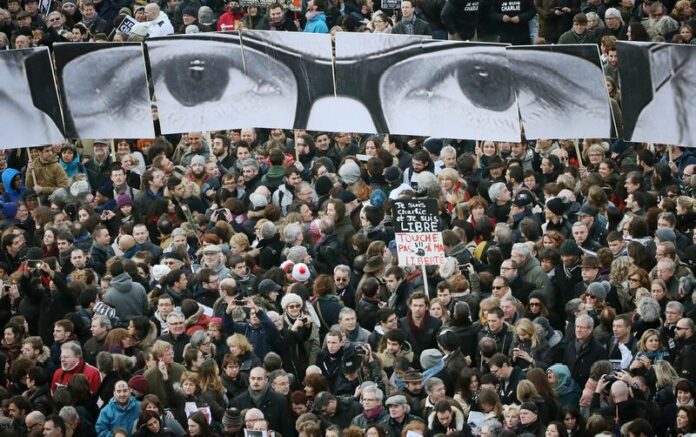 By Alexandra Mayer-Hohdahl
PARIS (DPA) – More than two million people took to the streets of France on Sunday to honour the 17 victims killed in the terrorist attacks that rocked the country in the past week.
More than 40 world leaders joined a march in Paris, locking arms in a show of unity against terrorism and extremism.
"All of France is in reverence and in mourning," Interior Minister Bernard Cazeneuve said.
Prime Minister Manuel Valls had earlier predicted that the event would show the country's "love of liberty and tolerance."
"Today the heart of Europe is beating French," German Foreign Minister Frank-Walter Steinmeier said, adding that the attacks were aimed at "our democracies, our values and our open societies."
One organizer, parliamentarian Francois Lamy, wrote on Twitter that 1.3 to 1.5 million people attended the Paris march. But the Interior Ministry told the AFP news agency that an official count was "impossible."
The procession was led by the families of the victims, some crying and several wearing white headbands with "Charlie" written on them.
Twelve people were killed Wednesday at the satirical magazine Charlie Hebdo, marking the beginning of a three-day terrorist spree.
The families were followed by the world leaders. French President Francois Hollande was flanked by Malian President Ibrahim Boubacar Keita and German Chancellor Angela Merkel.
People were showing their support for "the ideals of freedom, equality and fraternalism," Merkel later told journalists.
The rally brought together – although at a distance – leaders often in conflict, including Israeli Prime Minister Benjamin Netanyahu and Palestinian President Mahmoud Abbas, as well as Russian Foreign Minister Sergei Lavrov and Ukrainian President Petro Poroshenko.
The heavily guarded dignitaries walked for about 15 minutes, holding a minute's silence along the way, before breaking off from the three-kilometre march.
Applause, chants of "Charlie" and people singing the French national anthem were heard along the route of the march. One journalist for Le Monde newspaper reported seeing marchers applauding law enforcement officers and chanting "Thank you to the police."
Religious representatives from all faiths also took part in the rally.
Netanyahu said he had headed to Paris to mark "a renewed struggle against the Islamic terrorism that is threatening all of humanity."
Muslim countries were also strongly represented, amid concerns that the terrorist attacks could lead to a backlash in Europe against their religious community.
Egyptian Foreign Minister Sameh Shoukri said before heading to Paris that the attacks had "nothing to do with religion." He called for comprehensive international cooperation against terrorism.
British Prime Minister David Cameron underlined the need to learn lessons from what happened in France, noting that his country faces a "very similar threat" from extremism.
The three Frenchmen believed to have carried out this week's attacks – Cherif Kouachi, Said Kouachi and Amedy Coulibaly – had told a broadcaster that they acted on behalf of jihadist groups, including al-Qaeda in Yemen, and the Islamic State.
But US Attorney General Eric Holder said in Paris that there was no "credible information" yet on which organization may have been responsible for the attacks.
The Kouachi brothers are believed to have carried out the attack on Charlie Hebdo, which was known for its caricatures of the prophet Mohammed.
Coulibaly, who knew Cherif Kouachi, is thought to have shot dead a policewoman in southern Paris on Thursday, followed by four hostages at a Jewish grocery store in the capital on Friday.
Prosecutors said Sunday they now suspect that Coulibaly may also have shot and injured a jogger in southern Paris on the day of the Charlie Hebdo attacks.
The three suspects were shot dead by police on Friday, after carrying out separate hostage-takings. Coulibaly's companion, 26-year-old Hayat Boumeddiene, is still on the run from police. She is thought to have made her way to Syria, French media reported.
The greater Paris region remains on high security alert, after what has been described as the bloodiest attack on France in 50 years.
Ahead of the march, President Francois Hollande met with representatives from the Jewish community. He had described Coulibaly's hostage-taking at the kosher grocery store as a "dreadful anti-Semitic act."
The French president was expected to attend a ceremony at the Grand Synagogue of Paris on Sunday evening, in honour of the victims.
Many thousands of people also attended rallies Sunday in other cities around the world – 20,000 were reported to have marched in Brussels, while a similar number turned out in Berlin.
Solidarity gatherings were also reported in London, Madrid, Nicosia, Ankara, Stockholm, Sydney, Jerusalem and Cairo.