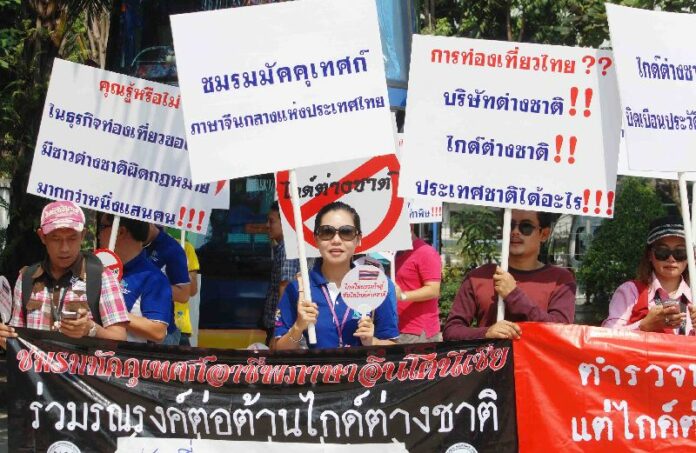 CHONBURI — Three Chinese tourists and their Thai guide were allegedly assaulted by a group of illegal Chinese guides in the outskirts of Pattaya early this morning.
Somchit Saelee, 25, told police that he and his clients were drinking and listening to music on his phone at a restaurant in front of Cholchan Hotel in Banglamung district at around 1 am.
Eight illegal Chinese guides then walked into the restaurant, took a table, and rudely shouted at Somchit to turn down his music, Somchit said.
"So I answered back, 'If you have anything to say to me, please come and talk to me,'" Somchit recounted for police officers at Banglamung Police Station.
However, the other reportedly guides became angry and charged at Somchit and his clients, beating them with chairs and fists. Somchit said he and the Chinese tourists managed to flee from the attackers and seek help from police.
According to Somchit, one of the attackers drew a handgun and fired several shots at him while he was running away, though the bullets did not strike anyone. Police confirmed that three bullet cases were found at the crime scene.
Ten Thai guides who operate in Pattaya showed up at the police station to show support for Somchit and the Chinese tourists. The guides urged police to take stern measures against illegal guides.
"I feel that local guides and foreign tourists are not safe because of these illegal guides," one of the guides told police officers.
Police said they have already identified the perpetrators in the incident and are looking for the men.
Thai authorities have pledged to root out illegal guides in tourist destinations across the country. On 21 January, tourist guides from various companies staged a rally in front of the Parliament to urge a tougher crackdown on foreign guides who work without permits.
On the same day, police officers near the Parliament arrested two Chinese men suspected of being illegal tour guides. One of the men did not have a passport and has been charged with illegal entry into the Kingdom, police say.
For comments, or corrections to this article please contact: [email protected]
You can also find Khaosod English on Twitter and Facebook
http://twitter.com/KhaosodEnglish
http://www.facebook.com/KhaosodEnglish