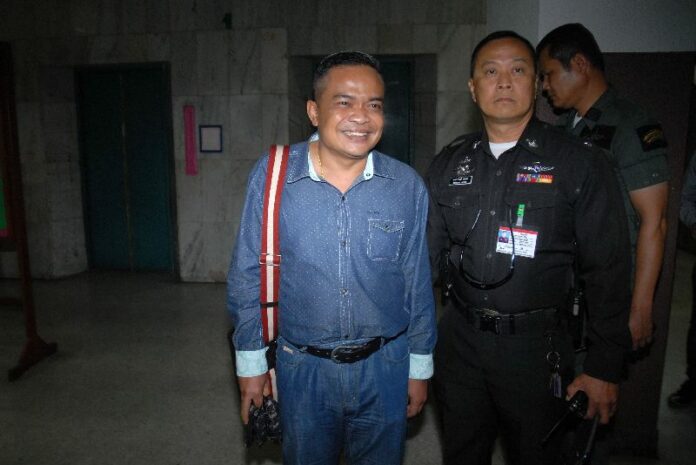 BANGKOK — The Criminal Court has sentenced a prominent Redshirt leader to two years in prison for falsely accusing former Prime Minister Abhisit Vejjajiva of "murdering" protesters in 2009.
Jatuporn Prompan, a core leader of the United Front of Democracy Against Dictatorship (UDD), was found guilty today of the libel charge filed against him by Abhisit for a speech he made in October 2009.
According to the lawsuit, Jatuporn accused Abhisit of ordering the murder of civilians during a military crackdown on Redshirt protesters in Bangkok in April 2009. Official records did not indicate that any protesters were killed by security forces during the operation, though two people were killed during a clash between Redshirt protesters and residents in Nang Loeng district, and over 90 people were killed in a crackdown ordered by Abhisit the following year.
Jatuporn also accused Abhisit of attempting to block Redshirts' attempt to petition His Majesty the King to dissolve the corruption convictions of former PM Thaksin Shinawatra, the de facto of the Redshirt movement.
Today the Criminal Court ruled that both accusations were false, and that Jatuporn "caused damages" to Abhisit with those remarks. The court then handed down an unsuspended sentence of two years in prison to Jatuporn. The court also ordered him to print a summary of the court verdict on three newspapers for seven days, using his own funds.
Winyat Chartmontri, Jatuporn's lawyer, said he would appeal the verdict. He added that he has already posted a bail of 200,000 baht for Jatuporn's release.
Defamation is a criminal offense in Thailand, defined under Thai law as any statement made by one party that is likely to impair the reputation of another party or expose the latter to hatred. The offense is punishable by up to two years in prison and a fine of 200,000 baht.
The law has been frequently criticised by rights activists, who say it is abused by authorities and large corporations to silence critics and create a climate of fear.