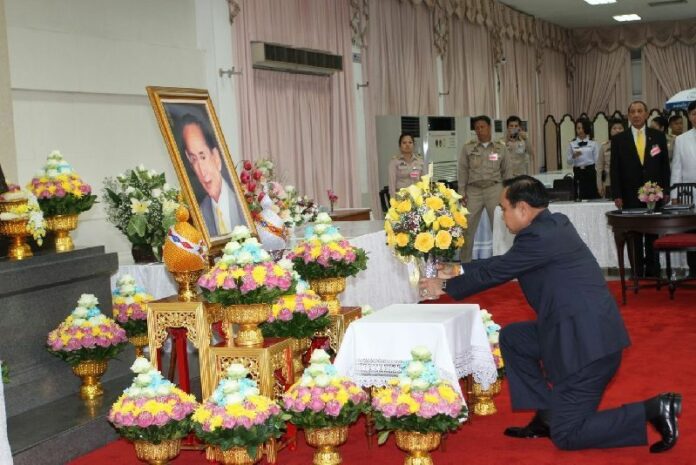 BANGKOK — An editor for the ultra-royalist Thai newspaper ASTV Manager was summoned by police today for overseeing the publication of a fake palace statement on the newspaper's website last night.
Niran Yaowapha, the head of ASTV Manager's online section, met with police in Bangkok today for "questioning" about the fake document, which said that King Bhumibol, 87, had decided to appoint a Regent to act on his behalf. Due to strict laws that criminalize any remarks deemed critical of the monarchy, Khaosod English is withholding other details of the document's contents.
An hour after the document began circulating online, a spokesperson for Thailand's military government announced that the order was forged. ASTV Manager, a staunchly pro-monarchy newspaper, pulled the statement from its website and published an apology.
"The document was a false statement with untrue information, which was forged by an ill-intentioned individual," the notice read. "The website would like to apologize for its mistake."
After meeting with officers today, Niran was released without charges, police say. However, the conservative Thai newspaper Naewna reported that ASTV Manager has demoted Niran and cut his salary in half as a punishment for the mishap.
According to police spokesperson Pol.Lt.Gen. Prawut Thawornsiri, the document was most likely disseminated "from abroad," which will make it difficult for police to track down who was behind the forgery.
As to whether any news agencies will be punished for publishing the fake document, Pol.Lt.Gen. Prawut said it depends "on their intention."
Falsifying a statement that purports to be issued by the Royal Palace is a radical and unprecedented act in Thailand, where the king is widely revered as a demi-god. Under Thailand's lese majeste law, insulting the monarchy is punishable by up to 15 years in prison. Quoting offensive remarks made by others is outlawed as well.
His Majesty the King is currently residing at Sirirraj Hospital in Bangkok for treatment of several illnesses. His frail health has been a cause of anxiety for many Thais.
Correction: This article previously misspelled the name of ASTV Manager as Manager ASTV.