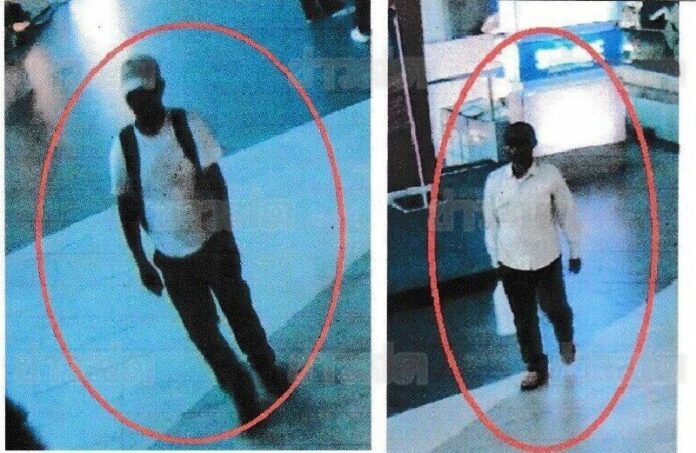 BANGKOK — Police have obtained arrest warrants for two suspects in connection with the double bombing of a high-end shopping mall in downtown Bangkok on Sunday.
The bombs went off at around 8.10 pm on the walkway that connects Siam Paragon, one of the largest shopping malls in Thailand, and Siam skytrain station, the largest and busiest BTS station in the city. One person was reported injured by the blast.

A screenshot of the suspects from CCTV footage provided by police.
Police say CCTV footage shows two suspects planting the bombs and walking away from the scene prior to the blast.
However, police say they have scant information about the suspects, whose faces were concealed by baseball caps. The arrest warrants described them as "unidentified Thai men."
The two suspects are charged with premeditated murder, causing an explosion that could harm other individuals and property, and carrying weapons into a residential area without due cause.
Police have yet to determine a motive for the attack, which they say was launched as an act of harassment, and not designed to injure or kill.
There has been widespread speculation on social media about whether a political group was behind bombing, which occured in the heart of Bangkok's financial center and while the country remains under martial law.
Since seizing power on 22 May 2014, the ruling military junta has touted martial law as a necessary means to restore peace and order following the sporadic violence that characterized the six months of anti-government protests prior to the coup.
Underground militants believed to be affiliated with both Thailand's Redshirt and Yellowshirt factions launched numerous grenade and shooting attacks on rival groups during the protests. Most of the 28 fatalities were protesters killed by shadowy assailants who attacked rally sites.