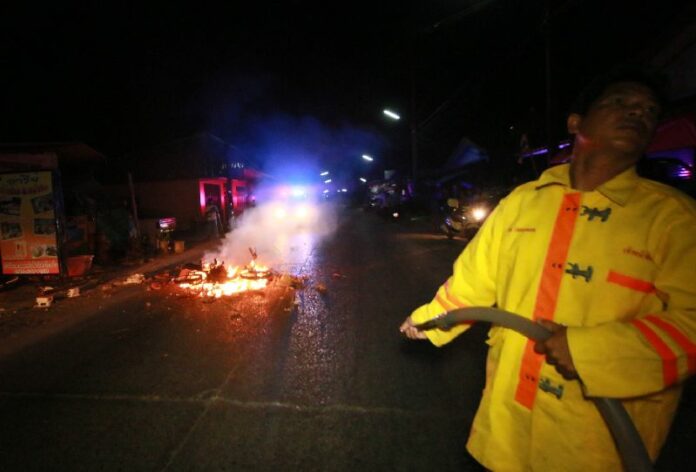 RANONG — More than 40 teenagers belonging to two rival gangs clashed in the town center of Ranong province last night, police say.
The skirmish broke out shortly after midnight when several dozen teenagers arrived on motorcycles and opened fire on another group of teens at an internet cafe, police say.
A gunfight then broke out between the two sides, with the violence later spilling out onto a main road two kilometers away from the cafe. According to witnesses, the two groups brawled with knives and wooden clubs, and some teens also threw molotov cocktails and flower pots.
One of the gangs eventually retreated, leaving several motorcycles on the road that were quickly set on fire by the other group, who also left the scene before police arrived.
Nopparat Kong-asa, a local administrator for Baan Sao village, said he saw several dozen teenagers engaging in the fight. Police estimate that around 40 people were involved.
"I could see that some of the teenagers were holding revolvers," Nopparat said.
Police say they believe the fight was between two rival gants, and are collecting evidence at the crime scene to identify those involved.