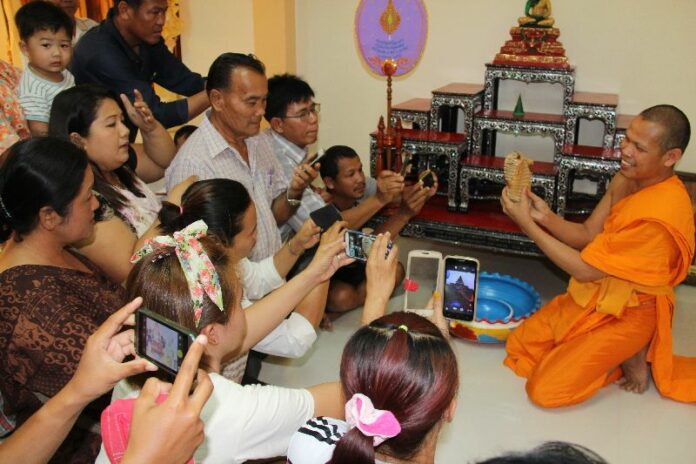 BANGKOK — Thailand's Department of Mineral Resources will dispatch officials to investigate what locals in Uttradit province claim is a fossil of the mythical Naga dragon.
The two kilogram "fossil," currently on display at Wat Tha Mai Nuea temple in Uttaradit's Pichai district, has attracted scores of believers and fortune seekers in the region who believe the bone will bring them good luck.
Kamol Jadrueng, a temple administrator, insists that the bone belongs to the Naga, a sacred snake-dragon featured in Buddhist cosmology. According to Kamol, the fossil was donated by a temple-goer who purchased it from an antique vendor in Vientiane for 200,000 baht.
The vendor said he found the fossil in a cave near the Mekong River in Laos' Savannakhet province.
"[The donor] believed that the Naga [fossil] would bring fame to the temple," Kamol said.
Often described as the Thai equivalent to Scotland's Loch Ness Monster, the tale of the Naga is widely celebrated in northeastern Thailand. Every November, thousands of Thais gather on the banks of the Mekong river in Nong Khai province to watch the Naga shoot mysterious "fireballs" into the sky. The event also brings annual heated debates over the source of the fireballs, which skeptics says are incendiary bullets fired from rifles on the other side of the river.
According to Supot Jermsawasdipong, director of the Department of Mineral Resources, the Naga "fossil" is likely an elephant molar.
"The department will dispatch officials to determine what kind of animal it is. We will compare it to an elephant's tooth," said Supot, whose department is responsible for cataloguing fossils in Thailand.
Jessada Denduangboripant, biology professor at Chulalongkorn University, told Khaosod he also believes the alleged Naga bone is a fossilized elephant molar.
"I'd like to add that before you believe anything, you should find information about it first," said Jessada, a vocal skeptical of supernatural beliefs in Thailand.