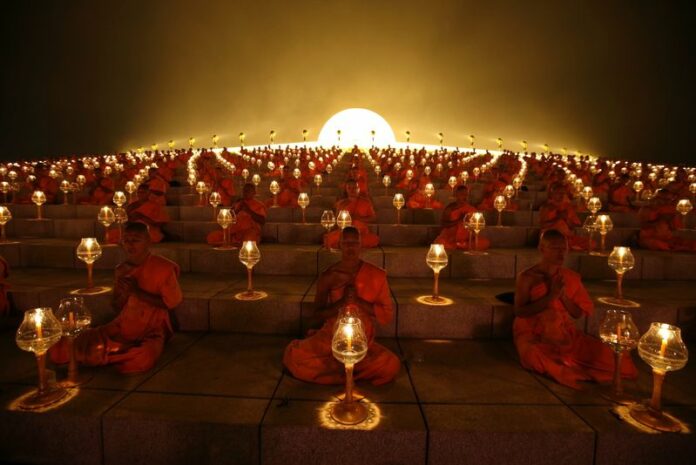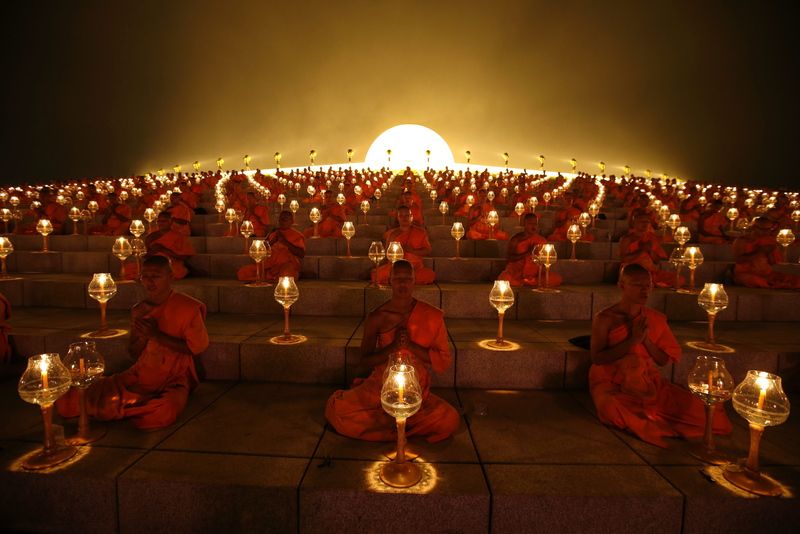 BANGKOK (DPA) — Thailand's foremost Buddhist authority denied reports that it had acquitted a controversial monk accused of embezzlement and distorting the religion, a report said Tuesday.
The secretary general of the Supreme Sangha Council, Phanom Sonsill, said no decision had yet been reached on Phra Dhammachayo, abbot of the unorthodox Dhammakaya sect, and that investigations were ongoing.

Novices light candles as they join thousands of Thai Buddhist monks in chanting to celebrate Makha Bucha day at Dhammakaya Temple in Pathum Thani province, 25 February 2013. [EPA/RUNGROJ YONGRIT]
Phanom denied earlier reports that the abbot had been acquitted of taking and not returning donations from a businessman found guilty of embezzlement, according to the Nation newspaper.
The unorthodox monk is also under investigation by Buddhist authorities who accuse him of distorting the religion.
The Dhammakaya sect is known around the country for its lavish celebrations, its large temple complex centered around a UFO-shaped structure, and its claims of conversing with the afterlife.
Phra Dhammachayo once claimed to have encountered Steve Jobs in the afterlife, existing in a heavenly palace, while he was meditating.
The case, and the outcry over earlier media reports, has sparked interest to the top levels of government and the monkhood in the overwhelmingly Buddhist country.
Prime Minister Prayuth Chan-ocha has instructed his deputy prime minister to investigate the matter. Phra Buddha Issara, a popular and politically active monk, has called on authorities to investigate both Phra Dhammachayo and the supreme council.