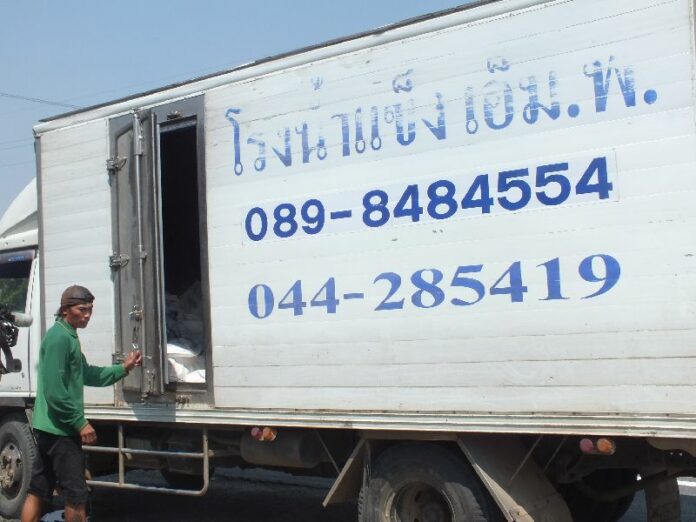 NAKHON PATHOM — The 35-year-old man who was arrested and accused of raping more than ten women yesterday says he was bullied into making a false confession by police.
Police arrested Tawan Thongyim on 24 February and told reporters he confessed to being the serial rapist who sexually assaulted at least ten women in western Thailand over the past four years, killing two of them.
However, police announced today that Tawan's DNA did not match forensic samples collected from the crime scenes.
Tawan told Khaosod that four plain-clothed police officers approached him yesterday while he was working at an ice factory in Nakhon Ratchasima province and said he resembled a sketch of the serial rapist drawn based on victims' accounts.
Tawan said he was then driven to a police station in the town center.
"On the way, officers kept telling me all the time, 'confess, so that your penalty won't be harsh,'" Tawan told Khaosod. "When I was in the car, I was very afraid. I couldn't contact anyone, because the police took away my phone."
According to Tawan, police officers continued to pressure him into confessing at the station, which he eventually agreed to.
Police released Tawan at 1am the next day after forensic testing cleared him of a connection to the crime.
"I want to ask for fairness," Tawan told Khaosod. "Now I am guilty in the eyes of society, they think I am the person that has been raping other people. It saddens me very much."
As is common in Thai media, a number of news outlet reported yesterday's arrest relying solely on the account given by police. Thai Rath, Thailand's best-selling newspaper, published Tawan's photo on the front page with a headline identifying him as a "rapist psychopath."
Thai police have a long history of coercing suspects to "confess" to crimes they did not commit, often through beatings and threats of a lengthy jail sentence. As a result, suspects in Thailand frequently confess during police interrogations, which often take place without the presence of a lawyer, only to later recant their testimonies in court.
Pol.Gen. Worapong Chiwapreecha, deputy commander of Royal Thai Police, said police officers were initially convinced that Tawan was the perpetrator because of his physical resemblence to the facial composite sketch of the suspect.
He also said that Tawan was not coerced into making the false confession, but that the incident was the result of a "misunderstanding."
"There was some misunderstanding. We were talking with him, and Mr. Tawan confessed that he committed the crime of stealing electric wires from the roads," Pol.Gen. Worapong said. "He wasn't confessing to raping the victims."
Pol.Gen. Worapong added that Tawan "did not mind the incident, which he saw cooperating with the police."