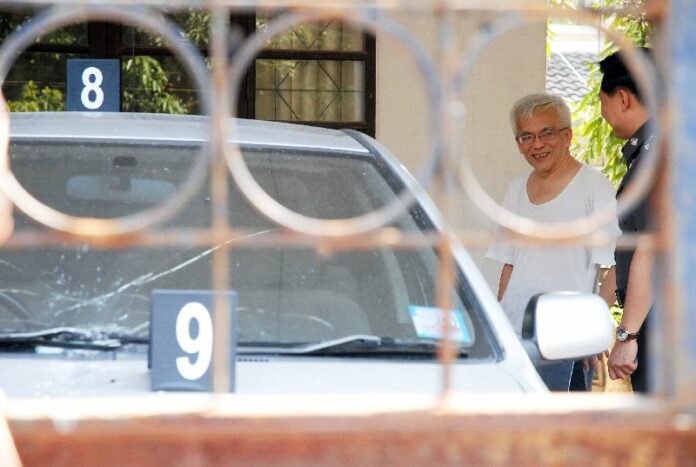 BANGKOK — Thailand's ruling military junta has accused a prominent critic of the monarchy of falsely framing his lese majeste charges as an act of harassment.
In a letter written to Thammasat University, Somsak Jeamteerasakul explained that he had fled Thailand and could not return to his job as a history professor because of repeated harassment from the Thai military.
The letter, which was posted on Somsak's Facebook account today, described how armed soldiers in two military vehicles arrived at his home several weeks after the May 2014 coup, presumably to detain him for failing to report for a summons order.
"When they could not find me, the military and police harassed my wife, my mother, and my brother at their homes and offices, even though those family members of mine did not have anything to do with my actions," Somsak wrote. "They continued this harassment for months. At the same time, the military junta revoked my passport and issued an arrest warrant on me for failing to report to the military."
Somsak also described a drive-by shooting of his house that occurred in February 2014, several days after Col. Winthai Suvaree, the spokesperson of the Royal Thai Army at the time, threatened to use "social measures" to punish Somsak for his criticism of the monarchy.
Col. Winthai, who is now serving as a spokesperson for the junta, insisted today that the military never harassed Somsak, but merely visited his home because he failed to report to the junta, officially known as the National Council for Peace and Order (NCPO). The NCPO summoned and detained hundreds of politicians, activists, and academics for "attitude adjustment" in the wake of the coup.
"Since he failed to report to the security officers, it was normal that the security officers had to track him down and make him enter the legal process," Col. Winthai said at press conference today.
The junta spokesperson also alleged that Somsak "presented insufficient information and distorted the facts" about the lese majeste (insult of monarchy) charges that the military filed against him in 2011 and 2014.
"Prior to the NCPO's [takeover] and efforts to move the country forward, Mr. Somsak was already facing criminal offences, and Mr. Somsak had the opportunity to contest those charges all along, yet he refused to use those legal channels," Col. Winthai said.
He added that Somsak's portrayal of the lese majeste charges as an act of intimidation "is only a claim from the perspective of Mr. Somsak."
Somsak is a rare outspoken critic of the monarchy in Thailand, where violating the country's harsh lese majeste law is punishable by up to 15 years in prison. He is believed to have fled Thailand shortly after the military staged a coup against an elected government on 22 May 2014.
In the letter to Thammasat University, Somsak argued that he would not be given a fair trial if he returned to Thailand to contest his lese majeste charges in court.
"It is clear that I would never have the opportunity to be treated fairly in accordance with the laws," Somsak wrote. "Therefore, I have the legitimate right to preserve my life, body, and liberty by refusing to allow the military junta, who committed the treasonous act of seizing power, to arrest and harm me under the excuse of lese majeste."
The historian said he sent the letter to Thammasat University in December 2014 after he heard that the university administrators were contemplating firing him. However, Thammasat announced yesterday that it had declined his attempt to resign and would formally expel Somsak instead, effectively disqualifying him from a pension and other benefits.
Related coverage:
Thammasat University Expels Monarchy Critic Living in Exile