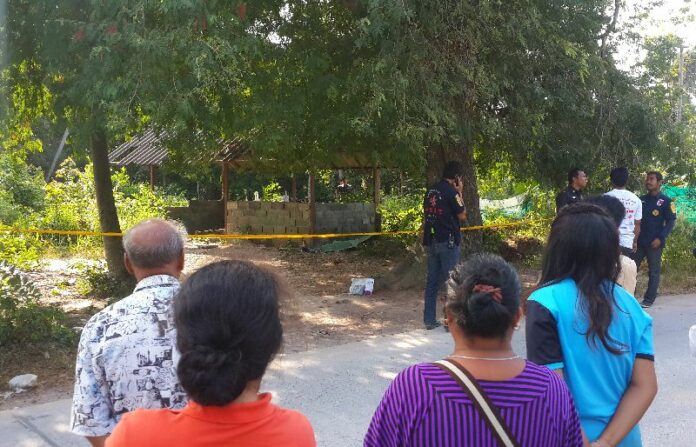 SURAT THANI – A 22-year-old Burmese man was found dead on the southern island of Koh Samui this morning, less than a week after his cousin was murdered on the same island.
Thet Soe Tar's body was found on the side of the road near Wat Sawang Arom Temple in Bo Put at around 8 am today. According to police reports, Thet suffered wounds on his throat, chest, and left torso. He is believed to have been killed five hours prior to the discovery of his body.
The local resident who found Thet's body said he drove past a man lying by the side of the road on his way to the market early this morning. He said he became suspicious when he saw the man in the same location on his way back, and decided to alert the police.
Thet was a waiter at a bar on Chaweng beach, his friends told police. He was last seen at around 2 am, when the bar closed down and he drove away on his motorcycle, police say.
According to police, Thet is a cousin of the 22-year-old Burmese woman named Sor Ngae Ngae who was murdered on Samui island four days ago, though they have not determined whether the two cases are connected. Three Burmese workers were arrested in connection with the killing of Sor.
Pol.Col. Sirichai Kertsri, deputy superintendent of Bo Put Police Station, said he believes Thet was attacked by at least two perpetrators. He also speculated that the murderers were Burmese because of their "violent" behavior.
"We believe [the perpetrators] are from Burma, judging from their violent behavior. They like to use violence," Pol.Col. Sirichai said. He did not cite any other evidence to support his claim.
There are more than one million Burmese migrant workers in Thailand, many of whom are not officially registered under Thai law. Their lack of legal protection, coupled with widespread discrimination against Burmese people in Thailand, means they are often subject to abuse by employers, police, and human traffickers.
The officers told reporters that police are studying CCTV footage from the bar where Thet worked and roads around the crime scene to identify suspects.