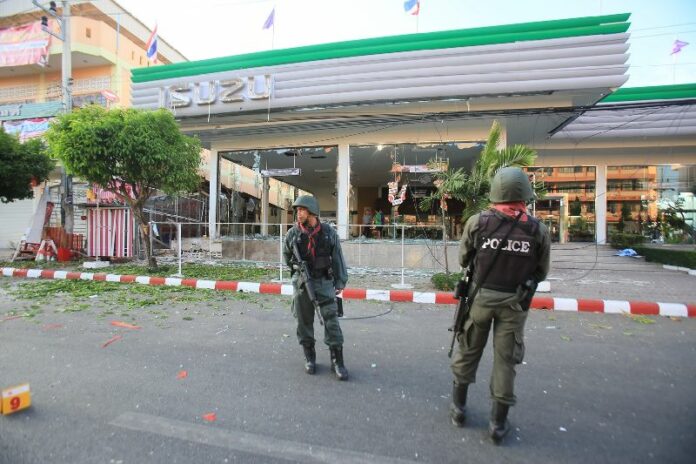 PATTANI — Five homemade bombs exploded almost simultaneously last night in the southern border province of Pattani, a week after a controversial military raid in the province left four local residents dead.
According to police, the bombs exploded at around 2 am in four different sites across the province's capital. Three bombs reportedly targeted shops in the city, and two were detonated near electric poles on Bana – Laem Nok Road, causing a total of six poles to collapse onto the street.

Damage caused by a homemade bomb in Pattani province, 2 April 2010.
The homemade explosives, which consisted of gas canisters and timed detonators, did not cause any injuries or deaths, police said.
Islamic insurgents seeking to secede Pattani and its two neighboring provinces have been locked in a bloody conflict with Thai authorities since 2004. The violence has claimed more than 6,000 lives in the region, which has been governed under martial law for the past nine years. Although most of the deaths have been caused by suspected insurgent attacks, authorities have also been faulted for their heavy-handed tactics.
Today's string of bomb attacks followed a fatal raid carried out by soldiers, police, and paramilitary rangers on To Chud village on 25 March.
Authorities said the operation was an effort to arrest insurgents plotting to stage attacks in the region, and initially told the media that two of the four men killed in the raid belonged to RKK, one of several militant groups behind the insurgency.
However, it later emerged that none of the deceased had any pre-existing records or arrest warrants related to the secessionist movement. According to relatives of the victims and community leaders, two of the men were Fatoni University students in their twenties, one was a known drug addict with no links to the insurgency, and the fourth victim was a 32-year-old man preparing to assist Thai authorities as a Village Defense volunteer after two of his relatives were killed by militants.
Commenting on the raid today, Thailand's army chief said To Chud village has long been known as a place where insurgents regularly gather for meetings.
"Let me explain that the village that was besieged in the seach-and-arrest operation, and where the fatal clash took place, is an area that has problems with narcotics, and perpetrators of violent incidents use it as a gathering place," Gen. Udomdet Sitabutr said today. "Intelligence reports reached security officers, so there was a necessity to act."
He added that ten of the 22 men detained in the raid tested positive for drug use. The men were taken to army camps for interrogation, and sixteen were released several days later without any charges.
Gen. Udomdet also told reporters that the army would accept the findings of a 15-member panel appointed to investigate the raid. The panel, which was formed in response to demands from the community, includes representatives from the military, local administration, Central Islamic Council of Thailand, and Fatoni University, among other agencies.
"If there is any wrongdoing, we are willing to admit it," Gen. Udomdet said. "Our works to solve problems in the border provinces are based on our sincerity for the people. I and my subordinate officers understand well that we have to be proper and straightforward. Otherwise, we won't have any credibility. What is right is right. What is wrong, we will frankly say it is wrong."
The panel's report is expected on 3 April. Police also say seven soldiers will be charged with murder for their role in the raid, though the seven men failed to report to police to hear their charges yesterday. Police said the suspects postponed their meeting "indefinitely," but declined to comment further.
There are an estimated 60,000 security officers deployed in the three southern border provinces of Pattani, Yala, and Narathiwat, a region known as the Deep South. The controversy surrounding the fatal raid has highlighted the deep mistrust of Thai authorities among locals in region.
In another incident this morning, two men were shot dead by unidentified gunmen as they were riding a motorcycle in Narathiwat province at around 7 am. One of the victims was later identified as a local defense volunteer. Police say the man's firearms were taken away by the assailants.