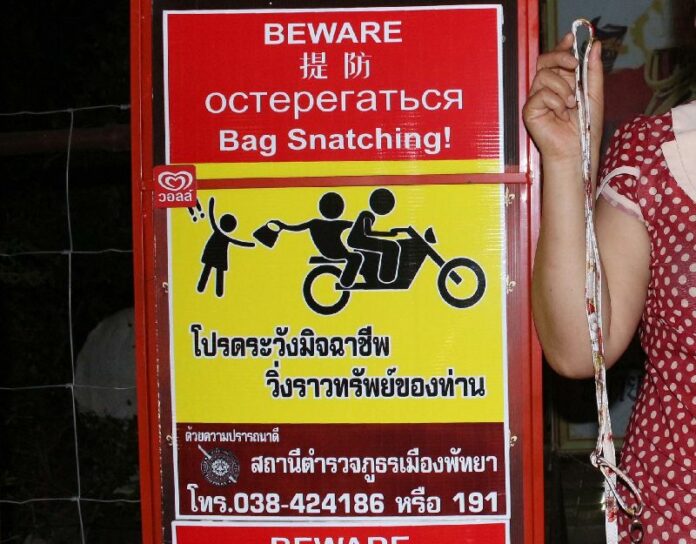 CHONBURI – A bag snatcher in the resort town of Pattaya robbed a Chinese tourist on her last day in Thailand this morning, police say.
A Thai man on motorcycle sped past the 51-year-old Chinese woman in North Pattaya and stole her bag at around 1 am, said Pol.Maj. Piyapong Ensan, an officer from the Tourism Police force in Pattaya. The woman and her friends tried to chase after the thief but failed, he said.
The victim reportedly told police through an interpreter that the bag contained her passport, cash, and other items. She estimated to have lost at least 40,000 baht.
"The victim is very worried, because she is scheduled to return to her country on the next day," Pol.Maj. Piyapong said. "Now that her bag has been snatched, she has no passport."
The officer said the Chinese Embassy in Bangkok has been contacted to provide emergency assistance to the tourist.
Police in Pattaya are studying CCTV footage around the crime scene and dispatching detectives to the neighborhood to identify the perpetrator, Pol.Maj. Piyapong said. He also warned that many thieves are targeting tourists and revelers during Thai traditional New Year festival, also known as Songkran, in Pattaya this week.