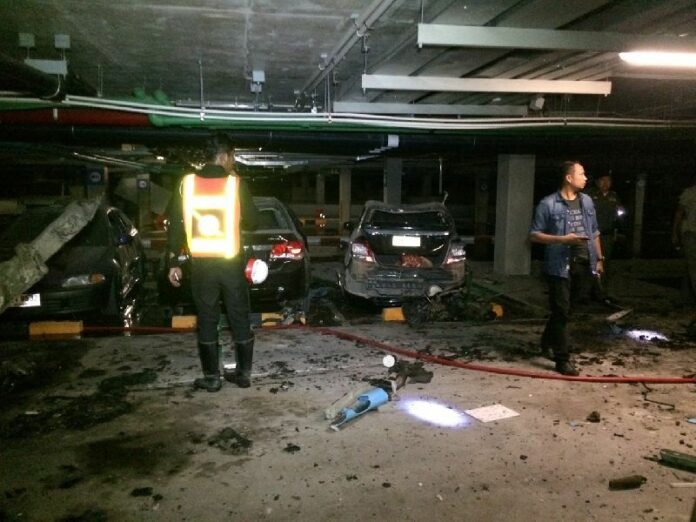 BANGKOK — A Redshirt activist has been released from custody at a secret location and cleared of any connection to the recent bombing on Koh Samui island, a junta spokesperson says.
Narin Ambuathong, aka M Redshirt, was arrested by military officers on 11 April on suspicion of plotting a car bomb at Central Festival Samui shopping mall on the previous day. The bomb, which exploded in an underground parking lot, injured seven people, including a 12-year-old Italian girl.
The military declined to say where Narin was held.
According to junta spokesperson Col. Winthai Suwaree, Narin was released on 17 April without charges after security officers established that he was not connected to the attack.
Narin was initially considered a suspect because he allegedly wrote on his Facebook account several hours prior to the blast "Tonight, bring it on in Surat," referring to Surat Thani province, where the popular tourist island is located.
"Security officers proceeded with evidence and facts, concerning the message that M posted," Col. Winthai said. "We had to inquire him for clarity, before we released him."
Under provisions issued through Article 44 of the post-coup interim charter, soldiers can search properties and detain individuals for up to seven days without court warrants.
According to Pol.Lt.Gen. Prawut Thawornsiri, spokesperson of the Royal Thai Police, police are close to arresting the perpetrator of the car bomb.
"We cannot identify the perpetrator, but we are close to issuing an arrest warrant," Pol.Lt.Gen. Prawut. "I cannot say whether the perpetrator is still in Thailand, because we have not detained the person. But I am confident that we will be able to arrest all perpetrators involved in the attack."
He added, "We are looking at the evidence to expand the investigation. I cannot divulge in-depth information to you right now, because it may affect the case."