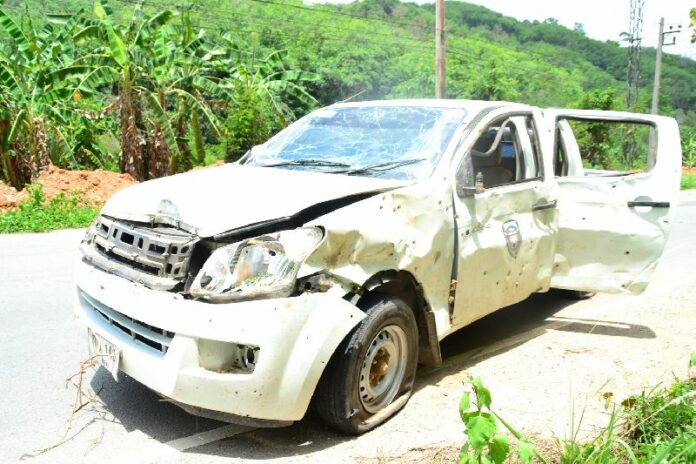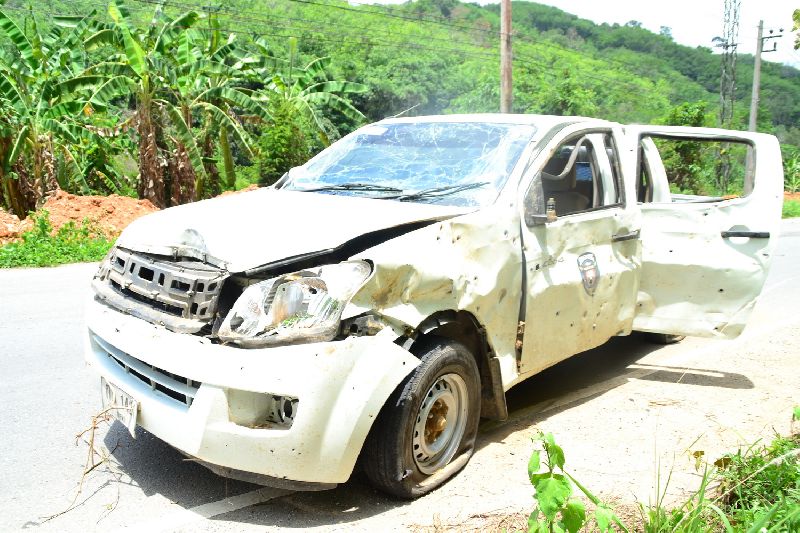 YALA — A bomb injured five security officers and a civilian in the southern border region of Thailand today, as security forces prepare for further attacks surrounding the 11th anniversary of a massacre at a local mosque.
Police say the roadside bomb exploded in Yala's Betong district at around 11.40 am. According to police, the 5-kilogram homemade explosive targeted a military patrol vehicle, wounding one police officer and four soldiers. An 18-year-old woman who happened to be riding a motorcycle near the site was also injured by the blast.

Security officers inspect the site of a roadside bomb in Yala province, 25 April 2015.
Police officers found another unexploded IED on 410 Road in Yala province at around noon.
The attack came hours after the military command in Pattani, Yala, and Narathiwat – a region known the Deep South – issued an order to step up security measures in the region in anticipation of retaliatory attacks by insurgents marking the 11th anniversary of the Krue Sae mosque massacre.
On the morning of 28 April 2004, scores of young militants armed with knives and wooden sticks stormed security checkpoints across the three southern border provinces in a coordinated attack. Although the better-armed security officers quickly put down the ambush, around 30 militants stole firearms from a police checkpoint and barricaded themselves in the historic Krue Sae mosque in Pattani province.
Gen. Pallop Pinmanee, commander of a local army unit, eventually ordered troops to retake the mosque. The operation killed all 32 insurgents, and extensively damaged the 300-year-old mosque.
It later emerged that Gen. Pallop's command contradicted with his superior commander's order to negotiate with the insurgents and find a peaceful end to the standoff. Gen. Pallop was then transferred from the Deep South region, although he retained a position in a counter-insurgency agency and no legal action was taken against him.
More than 6,200 people are believed to have been killed by the secessionist campaign that broke out in 2004. Around 60,000 security officers are stationed in the region to combat the insurgency, which is aiming to revive the independent Islamic state of Patani that was annexed by Thailand in early 20th century.