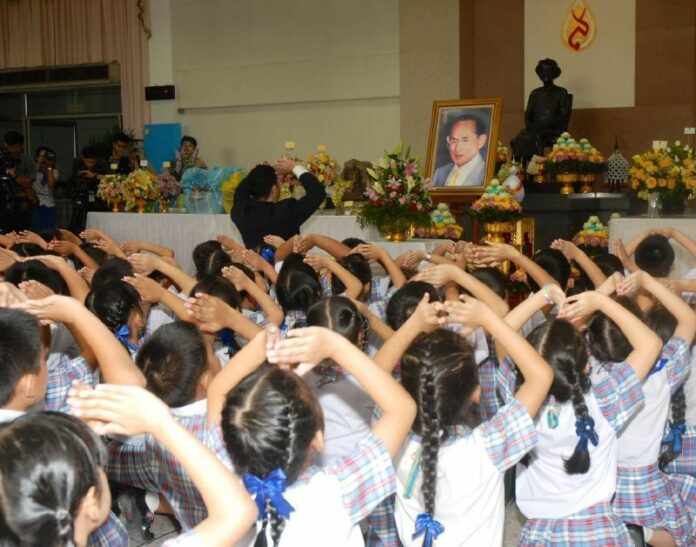 BANGKOK – The Thai king's royal power will not be diminished in the new charter, the chairman of the junta-appointed constitution drafting committee (CDC) said today.
The CDC chairman was speaking in response to complaint filed by the royalist monk Buddha Issara, who expressed alarm over a clause in the charter draft that permits Parliament to pass legislation without the King's signature.
According to Section 157 of the current draft, the Parliament must submit legislation to His Majesty the King for a royal signature. However, if 90 days pass without a signature, Parliament can re-submit the bill to the king with support from two-thirds of the chamber. In the event that the King does not sign the bill in the next 30 days, the Prime Minister will be authorized to enact the bill as a law.
Buddha Issara argued that the clause will allow politicians to limit the King's power without His Majesty's approval, and asked the CDC to remove the clause.
However, CDC chairman Bowornsak Uwanno, also known a staunch royalist, explained that Section 157 has been included in Thai constitutions since 1949, including the recent 2007 constitution that was dissolved by the military junta who seized power last May.
The CDC chairman also insisted that it is extremely difficult for politicians to decrease the King's power.
"To lessen royal powers, there needs to be a constitution amendment, which is very difficult to do," Bowornsak said. "It would need at least two-third votes of the Parliament, and there needs to be a referendum to ask the entire nation. I insist that this Section doesn't affect the royal power. In fact, it gives more power to the King than the British [constitutional monarchy] system."
Following a revolution that overthrew absolute monarchy in Thailand in 1932, the Thai king has been granted largely ceremonial powers through the constitution. However, he remains an influential figure who occasionally intervenes in politics, and is worshipped by many Thais as a demi-god.
Buddha Issara was a core leader of the protest movement against the government toppled in the May 2014 coup, which urged His Majesty the King to unilaterally intervene and replace then-Prime Minister Yingluck Shinawatra with a royally-appointed leader.
Following six months of deadly street protests, the military stepped in and overthrew the government 22 May 2014, citing a responsibility to restore public order and launch a national reform effort.
The coup was endorsed by His Majesty the King several days later.
Related coverge:
Thai King Leaves Hospital for River Viewing