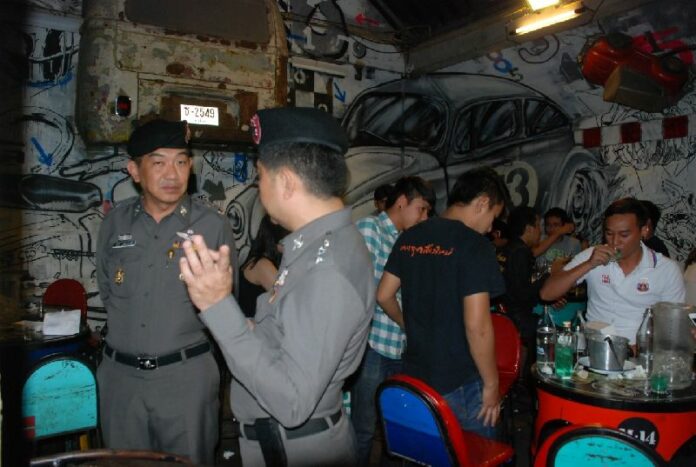 BANGKOK — A 31-year-old woman was struck and killed by a car while she was riding a bicycle in Bangkok last night, several days after three cyclists were killed by a drunk driver in northern Thailand.
According to reports on Thai Rath and Daily News, the motorist crashed into group of cyclists on Ratchada-Ramintra Road in Kannayao district at around 8.30 pm yesterday.

Buddhist monks pray over the spot where 3 cyclists were killed in Chiang Mai on 3 May 2015.
The driver, identified by witnesses as a young man, was taken to the hospital by rescue workers and left before meeting with police. Police are searching for the man.
Three cyclists were sent to hospital, and one of the victims, 31-year-old Thanyakorn Densirimongkol, later died of the wounds.
The incident came two days after a university student crashed her car into cyclists in Chiang Mai, killing three people. The driver, Phatchuda Chairuean, 23, is being treated for injuries at the hospital. She has been charged with reckless driving leading to deaths and injuries of others.
Yesterday junta chairman and Prime Minister Prayuth Chan-ocha ordered police to crack down on drunk driving – a common cause of road accidents in Thailand.
"Gen. Prayuth also extends his condolence to families and friends of the dead and injured," a government spokesperson said. "He has urged traffic commuters to be compassionate and drive carefully, and to share the roads with bicyclists, which are increasing in number every year."
Chiang Mai Governor Suriya Prasarnbundit said yesterday that he has ordered tougher inspections of nightlife establishments in the province because the driver behind Sunday's deadly crash confessed that she was drinking till morning with friends at a bar.
"She drank until dawn. We have to take this seriously," Suriya said, adding that bar owners should accept any financial losses that come with closing earlier for the sake of public safety.
Shortly after midnight today, around 100 security officers visited bars in Chiang Mai to ensure that the venues were obeying the mandatory 2 am closing time. Operators of two bars visited by police were arrested after officers found underage customers drinking at their venues.
One of the cyclists injured on Sunday, 56-year-old Supol Tasingha, held a sign that said "Drinking + Drive = Murder" while he talked to reporters at his bedside yesterday.
Supol said he was biking only a few meters away from those who died in the accident. "I heard a loud bang behind me, and seconds later I didn't feel anything. Everything stopped and went dark. When I regained consciousness, I was on the road," he recalled.
"I want this to be a moral lesson," Supol continued. "If you are drunk, don't drive … It's dangerous for you, and for others."
CORRECTION: The motorist who killed a woman in Bangkok on 4 May did not flee the scene immediately after the crash as was originally reported. He fled before speaking to police from the hospital, where he was brought by rescue workers.