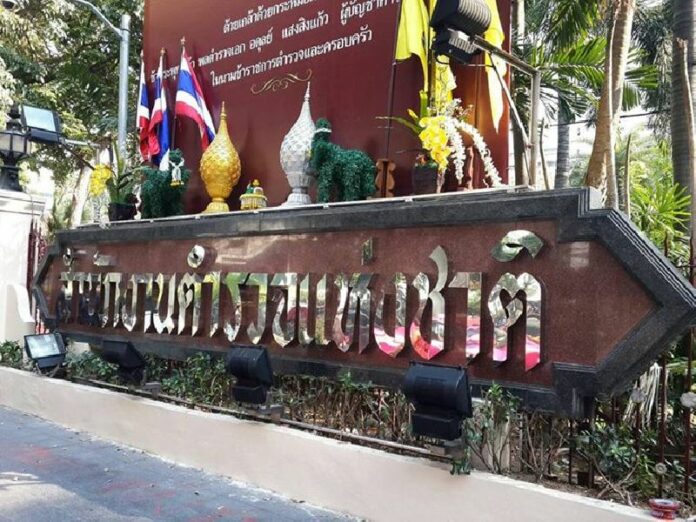 BANGKOK — Police say they have arrested a man who vandalized a granite entrance sign in front of the Royal Thai Police headquarters during anti-government protests in Bangkok sixteen months ago.
Weerachart Premkamol has been charged with illegal assembly, inciting unrest, and damaging public property for allegedly dismantling and spray painting the sign along with other protesters on 22 January 2014.
The anti-government demonstrators were protesting the Thai police's perceived support of then-Prime Minister Yingluck Shinawatra.

Anti-government protesters vandalize the police HQ sign in Bangkok, 22 Jan 2014.
The court issued an arrest warrant on Weerachart in March 2014, but he was not arrested until yesterday afternoon while he was at the Revenue Department office in Bangkok. He was then brought to the Division of Special Investigation and later granted bail after posting a bond of 50,000 baht.
Speaking to reporters upon his release, Weerachart said he joined protests organized by the Student and People Network for Thailand Reform (STR) in front of the police headquarters on 22 January 2014, but did not participate in the vandalism of the sign.
"I also didn't know the court issued an arrest warrant on me until this afternoon," Weerachart said. "If I had known there was an arrest warrant on me, I would have surrendered myself to the police on my own."
Police said repairing the sign cost 300,000 baht.
Weerachart has been instructed to report to the police on 26 May, 2 June, and 9 June, sad his lawyer, Puangthip Boonsanong. She also said she has requested the names of ten other protesters charged with vandalizing the sign, and will inform them to report to police.
The protest in January 2014 was a part of the campaign by STR and other ultra-conservative groups to topple Yingluck and replace her with a royally-appointed PM.
The campaign came to an end when the military intervened and staged a coup d'etat on 22 May 2014.
For comments, or corrections to this article please contact: [email protected]
You can also find Khaosod English on Twitter and Facebook
http://twitter.com/KhaosodEnglish
http://www.facebook.com/KhaosodEnglish