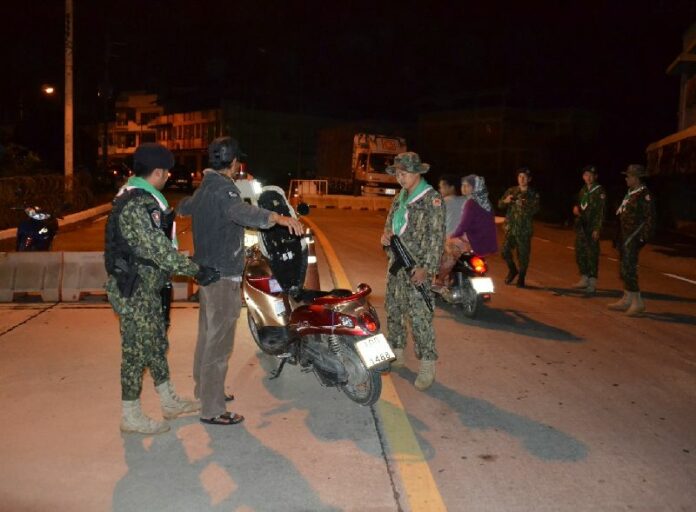 YALA — Thai authorities have arrested 22 suspects in connection with a three-day spate of bombings in the southern border province of Yala that injured nearly 20 people last month.
According to Col. Isra Chantakrayom, commander of the 41st Ranger Division, security officers tracked down the suspects using CCTV footage and witnesses' testimonies.

Thai firemen and volunteers try to extinguish a fire after a bomb attack in Yala, southern Thailand, 06 April 2014. EPA/NAKHARIN CHINNAWORNKOMOL
The bombings, which rocked Yala between 14 – 16 May, injured 18 people, including children. Police say at least 56 homemade explosives were detonated throughout the weekend.
Although the explosions themselves were relatively small, the incident was one of the most coordinated attacks to strike the insurgent-torn region in recent months.
Col. Isra said the 22 suspects, who were arrested on 2 June, have not been formally charged wiht a crime, except for one man who already had a pre-existing arrest warrant on him for separate charges.
"As for the detention of these 22 suspects, I insist that we will quickly interrogate them, and once the interrogation determines that they are not related to the incident, they will be immediately released," Col. Isra explained. "Their relatives have already have been informed."
Col. Isra also told reporters that three suspects have already confessed to their involvement in the May bombings, but he declined to provide further details, citing classified information.
The Muslim-majority southern provinces of Yala, Narathiwat, and Pattani – a region known as the Deep South – have been plagued by a bloody Islamic insurgency for the past decade. The insurgents are seeking to revive the Islamic state of Patani, which was annexed by Thailand in the early 20th century.
Near-daily bomb attacks and shootings have claimed the lives of more than 6,200 people since the most recent waves of secessionist violence broke out in January 2004.