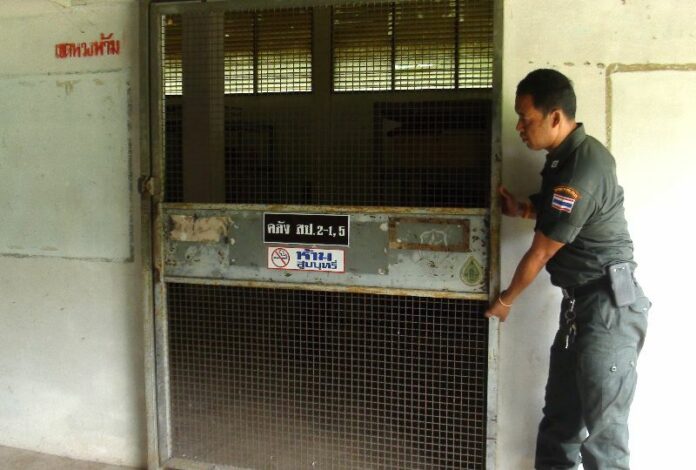 NAKHON SI THAMMARAT — Police say they have arrested five people, including two minors, who allegedly stole assault rifles from a police base in Nakhon Si Thammarat province.
According to police, the five suspects broke into the arsenal of a Border Patrol Police command center in Thung Song district, stole the weapons, and sold them in the black market to buy narcotics.
Two of the suspects are 16, and the rest are 19, 33, and 40, said said Pol.Maj.Gen. Kiattipong Khaosam-ang, commander of the police force in the region.
One of the teenagers is the son of a police officer stationed in the base, he said.
"Based on our investigation, the crime was initiated out of recklessness," said Pol.Maj.Gen. Kiattipong.
Police officers discovered that the weapons were missing on 26 May, and have recovered ten assault rifles so far, said Pol.Maj.Gen. Kiattipong. He did not say how many weapons were stolen in total or when the thefts took place.
"They stole two to three guns each time," Pol.Maj.Gen. Kiattipong said. "They committed the crimes multiple times."
Police will also issue separate arrest warrants on those who purchased the weapons, Pol.Maj.Gen. Kiattipong said.
Border Patrol Police in the region have been instructed to review and step up their security measures in the wake of the theft, he added.