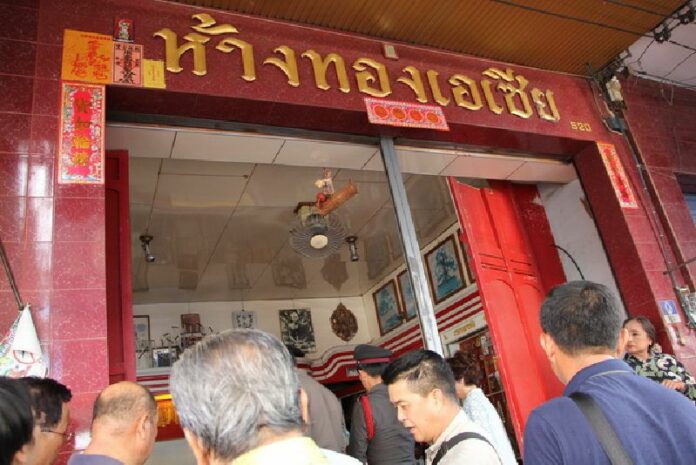 PHAYAO — A local administrative official in northern Thailand was fired after he attempted to rob a gold store with a gun and a hammer yesterday.
Police say Chaiyasith Kittipong entered the gold shop in Phayao's town center on Friday afternoon and demanded the store owner hand over the gold. However, the owner and staff fought back, overpowered Chaiyasith, and detained him until police arrived. According to officials, Chaiyasith, 48, was Permanent Secretary to Chun district office and a senior assistant to Mae Chai district office.
The store is owned by Charas Sutthikullabutr, a member of the junta-appointed National Reform Council.
According to Charas's sister Nucharee Sutthikullabutr, who co-owns the store, Chaiyasith entered the gold shop wearing a motorcycle helmet, and holding a hammer in one hand and a pistol in another. Nucharee said he fired the handgun once to threaten her, but she and two other relatives who work at the store decided to fight him.
During the struggle, Chaiyasith fired his handgun again, wounding Nucharee in the hip, but she said she managed to wrestle both the gun and the hammer from him, and used the hammer to smack him in the head until he gave up. The staff then reportedly detained the him and called the police.
Chaiyasith was sent to hospital for minor injuries and placed under police custody. Nucharee's two relatives were also slightly wounded by the fight, police say.
Several hours after the incident, the Governor of Phayao province issued an order expelling Chaiyasith from all posts, effective immediately. The document cited Chaiyasith's "criminal wrongdoing that has affected the peace and order of the country" as the reason behind the expulsion.
Speaking to reporters from Bangkok, Charas, the gold store owner, said he has seen Chaiyasith many times in Chun district.
"I don't know what kind of stressful thing he went through that made him decide to do this," Charas said. "I am also curious why a district office's permanent secretary was allowed to carry a gun."
Wisit Thaweesingha, chief officer of Mae Chai district, said he was "shocked" to learn about the attempted robbery because Chaiyasith has been a good colleague since they started working together four months ago.
However, according to Wisit, Chaiyasith is in debt and has been feeling stressed about his financial situation. The official added that Chaiyasith took two days off from work before he committed the robbery yesterday.
"Mr. Chaiyasith asked for some days off, and I approved his request, because I thought it may help ease his stress," Wisit said. "I didn't expect that he would do something like this."
Meanwhile, Sakchai Chotimanon, chief officer of Chun district, said Chaiyasith was a quiet man who rarely spoke about his personal life at the office.
He also explained that Permanent Secretaries are allowed to carry firearms, but regulations require that the gun only be carried when the officials are on duty, and any carry of firearm outside their respective district's jurisdiction must be approved by their superior officials first.
For comments, or corrections to this article please contact: [email protected]