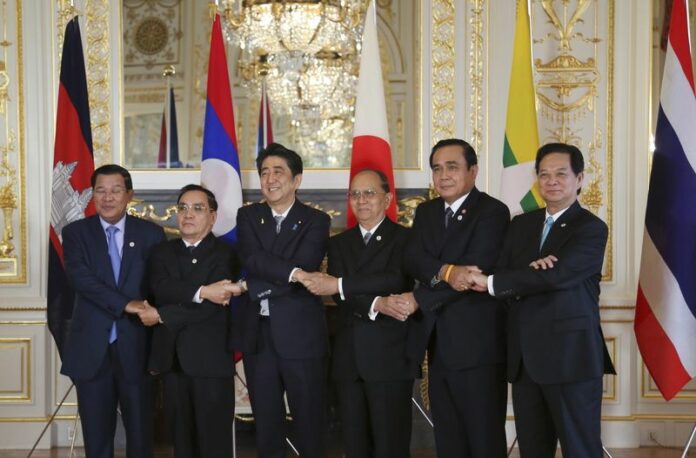 TOKYO (DPA) — Japan pledged 750 billion yen (6.1 billion dollars) as a new development aid package for five countries along the Mekong River at a summit meeting in Tokyo Saturday.
Prime Minister Shinzo Abe met with the leaders of Cambodia, Laos, Myanmar, Thailand and Vietnam to adopt a new three-year development strategy to boost growth and connectivity in the South-East Asian region.
Japan hopes to distinguish its infrastructure development aid in the Mekong region from that of China, by promoting advanced Japanese technology, environment-friendly innovation and capacity-building schemes, Kyodo News agency reported, citing unnamed government officials.
Abe and the five countries' leaders agreed that the region has potential to be a "global growth centre" given its strategic location next to major Asian markets such as China and India.
"Peace and stability in the Mekong region, which is a strategic point for land and sea transportation, is extremely important for Japan," Abe said at the seventh Mekong-Japan summit.
Abe and the leaders "noted concerns expressed over the recent development in the South China Sea."
Recent satellite images released by a US research group showed China's construction of man-made islands in remote parts of the contested South China Sea is nearly finished.
The construction of a 3,000-metre airstrip on Fiery Cross Reef "is nearly complete," said the group, the Asia Maritime Transparency Initiative.
The leaders also said Saturday that recent developments in the South China Sea "will further complicate the situation and erode trust and confidence and may undermine regional peace, security and stability."
Japan's pledge comes less than a week after the new China-backed Asian Infrastructure Investment Bank was officially established in Beijing.
For comments, or corrections to this article please contact: [email protected]