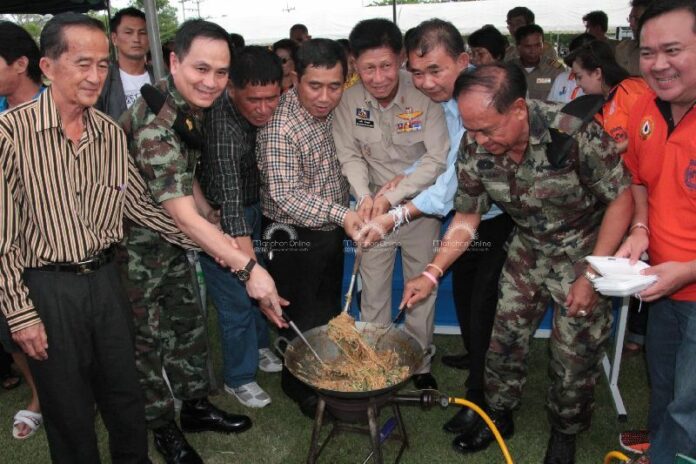 NAKHON RATCHASIMA – A former leader of a local Yellowshirt organization in northeastern Thailand said soldiers have accused him of backing an anti-junta activist network, which he denied as he openly supports the current government.
Supot Piriyakiatsakul, 69, who has campaigned with the conservative Yellowshirt movement for years, told Khaosod that seven soldiers arrived at his home in Nakhon Ratchasima province on 2 July and sought to talk with him, though he was not home at the time.
According to Supot, the soldiers identified themselves to his neighbors as officers from 21st Army District, and left a message for him before leaving the scene.
They reportedly told Supot's neighbors to tell him: "Don't get involved with Dao Din group. If you don't stop getting involved, and if you don't obey us, we will get involved with you."
Dao Din is a social justice group formed by students at Khon Kaen University, and seven of its members are among the fourteen activists currently imprisoned in Bangkok for organizing a pro-democracy demonstration.
The fourteen are facing up to seven years in prison for charges of violating the junta's ban on public gatherings and inciting unrest. Bangkok's martial court ordered them to be jailed while they await their trial.
Members of the ruling military junta have alleged that the fourteen activists are backed by high-level politicians, but have not produced any evidence or publicly identified anyone by name.
Supot said he phoned the commander of the 21st Army District and asked for an explanation, but was told that the visit was merely an "interaction," and that he had nothing to worry about.
"This is an arrogant exercise of power," Supot said. "Throughout all this time, I and my fellow [activists] were united in showing our stance of supporting the government of General Prayuth Chan-ocha. We recently asked him to stay in power for a long time to solve the country's problems and deal with corrupt politicians. We have even traveled to Bangkok to show our support."
Supot is a member of the Yellowshirt movement, which was formed a decade ago to protest former Prime Minister Thaksin Shinawatra and his successive political allies. In 2005-2006, Supot was a regional coordinator for the People's Alliance for Democracy, which sought to oust Thaksin and his government at the time.
In late 2013, Supot joined the People's Committee for Absolute Democracy With the King As Head of State – another reincarnation of the Yellowshirt movement – when it launched street protests to topple the government led by Thaksin's sister, Yingluck Shinawatra. The campaign came to an end after then-army chief Gen. Prayuth seized power in a coup on 22 May 2014.
In the wake of the May 2014 coup d'etat, Supot was one of the hundreds of activists, academics, and politicians summoned to army camps for up to seven days of "attitude adjustment" aimed at easing the country's political tensions.
"When the military summoned me for attitude adjustment, I joined it, and I showed my sincerity of wanting to build reconciliation and unity for people in the nation," Supot said. "Let me insist that I do not know Dao Din students at all. I have only been hearing about them in the news. There is no reason for me to be behind or give support to Dao Din."
He added, "This kind of net-casting is like pushing friends to join the opposition."
Supot also said he would meet the army commander responsible for security operations in the province to show his "innocence" and inquire about the soldiers' visit on 2 July.