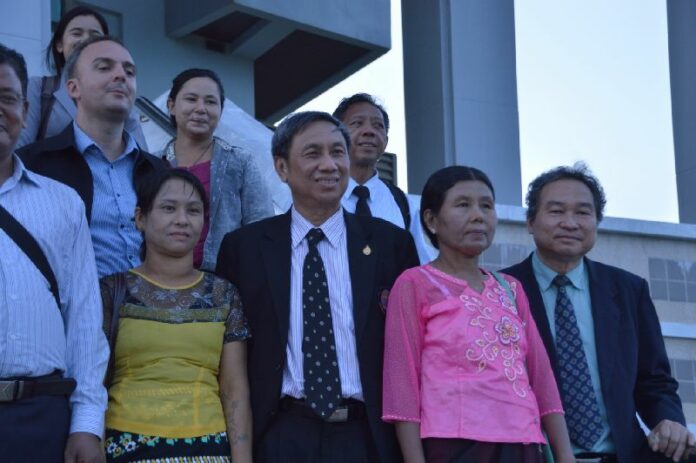 By Sally Mairs and Teeranai Charuvastra
SURAT THANI — Challenging previous testimony provided by police, a forensic expert told the court where two Burmese men are being tried for murdering British tourists on a Thai island that more evidence is available for the independent re-test requested by the defense team earlier this month.
Her testimony contradicted what police witnesses told the court during the first three days of the trial on July 8-10: that only four items were available for re-examination because other key pieces of evidence, such as swabs of DNA taken from the victims' bodies, were "used up."
Today's witness, a scientist from police's forensic division named Kewalee Chanpan, said that "all" genetic material tested in the lab is replicated and saved for at least one year.
Pol. Lt. Col. Kewalee, who was in charge of testing several items in the investigation, also said that original pieces of evidence, such as a condom found at the crime scene, are still in police custody, though she added that DNA traces on objects diminish over time.
The availability of more forensic evidence is seen as a huge victory for the defense team, which has repeatedly protested their inability to access the alleged DNA match that police say incriminates the two suspects, whose names are Zaw Lin and Wai Phyo.
The pair has been charged with raping and murdering Hannah Witheridge, 23, and murdering David Miller, 24, on the island of Koh Tao in September 2014. If found guilty, the 22-year-olds could face the death penalty.
Police's internal processing of the forensic tests and the prosecution's efforts to evade an independent re-examination of the evidence have fed long-running suspicions that the two Burmese migrant workers were framed.
The pair, who were arrested following two-weeks of investigative blunders and dead ends, say they were beaten by police into making initial confessions, which they later retracted after speaking to lawyers in prison.
In court this week, the two men, who must wear metal shackles around their ankles, have appeared attentive but generally relaxed during the proceedings.
Although the forensic witness said today that all genetic material is replicated as a matter of protocol in the police lab, she did not specifically confirm which samples can be retrieved for further examination.
According to the prosecution, the key pieces of incriminating evidence are semen found in the female victim's body, and DNA on cigarette stubs found close to the crime scene.
The defense team told Khaosod English that they will discuss which pieces of additional evidence they would like send to the Central Institute of Forensic Science, a lab administered by the Ministry of Justice.
"We have to be specific about what we want retested, and for what purposes," said Nakhon Chompuchat, one of the defendants' lawyers. "But at least our perception of things is now clearer."
He said the institute is still processing the items that were sent for a retest earlier this month, which included the bloodied garden hoe police believe was used in the murder, and a shoe, sock, and bag found at the crime scene.
Pol.Lt.Col. Kewalee, who conducted police's original testing of the garden hoe, told the court today that only Witheridge's blood was found on the weapon. No other DNA was found on the tool, she said.
When pressed by the defense about why there was no genetic material found on the hoe that matched the suspects, who presumably had to grip its handle tightly, Pol.Lt.Col. Kewalee said that skin cells from the hand are not as likely to adhere to an object as blood.
She also did not supply the full documentation of the results she gathered in her forensic testing, citing a policy that bars scientists from providing investigative officers with detailed graphs of a person's genetic makeup.
The defendants' lawyer, Nakhon, said he was suspicious of this reasoning, and has requested access to all of the material in order to ascertain whether any documents were tampered with.
"The prosecutor tried to be evasive by saying that no law supports giving the graphs and tables to the investigative officers, which is true," he said. "But once you testify to the court, you must show them."
He added, "I have already requested this information, but they won't give it to us. That is why I am suspicious."
According to Nakhon, the defense has not received a number of requested documents from the prosecution, including photographs taken during the post-mortem examinations, and required paper trails – known as 'chains of custody' – that document the collection, movement, and current location of all physical evidence.
"We haven't received any of this," he said.
The trial is taking place in a court on the neighboring island of Koh Samui over 18 staggered days. The second session will conclude tomorrow, with a third round of prosecution witnesses scheduled to take the stand in August. A verdict is expected in early October.
Among those who attended today's court hearing were the defendants' mothers, a representative for relatives of Miller and Witheridge, an official from Myanmar's Embassy in Thailand, a representative from a Burmese NGO, one foreign correspondent, and several expats who have organized local support for the suspects.
For comments, or corrections to this article please contact: [email protected]