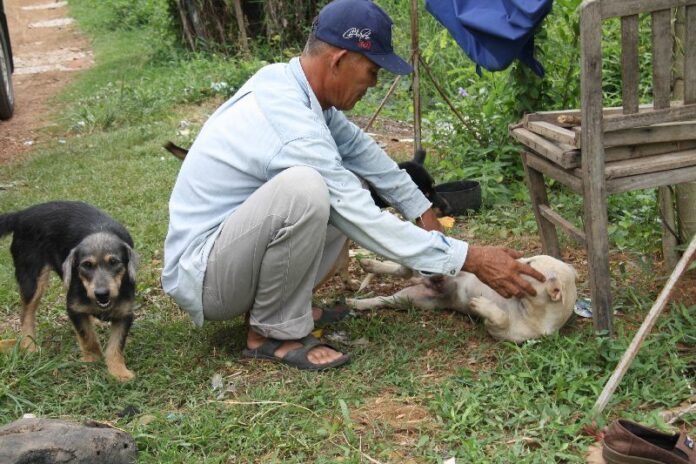 SA KAEO — A pet dog in the eastern province of Sa Kaeo brought his owner a package of methamphetamine tablets this morning, likely disrupting a drug deal, police said.
The owner of the dog, Montri Moonmook, 53, said he saw his pet staggering around "like a drunk person" on his lawn this morning.
"I thought he was poisoned," recalled Montri.
When Montri walked over to inspect the dog, named Khao, he noticed a slightly-torn black backage nearby that contained tablets of methamphetamine.
Montri said he promptly called police and gave Khao water mixed with Thai herbs.

Pol.Maj. Chaiya Maneesutthi at Aranyaprathet Police Station with the meth tablets found inside the package dug up by a dog in Sa Kaeo, 27 July 2015.
According to Pol.Maj. Chaiya Maneesutthi, an investigative office at Aranyaprathet Police Station, 760 meth pills were found inside the package, which Khao had chewed open.
Around 30 more tablets were also strewn on the lawn near the dog, who appeared to have consumed some of the pills.
Pol.Maj Chaiya said he believes the pills were buried by local drug dealers in a nearby wooded area as part of "dead drop" deal. The officer explained that it's common for dealers to hide drugs at a specified location and instruct their buyers to pick up the package on their own.
Khao likely dug up the package while he was wandering around the neighborhood last night, the officer said.
"We will investigate and find this meth seller gang and bring them to punishment," Pol.Maj. Chairaya said.
Montri said Khao's condition has been gradually improving.