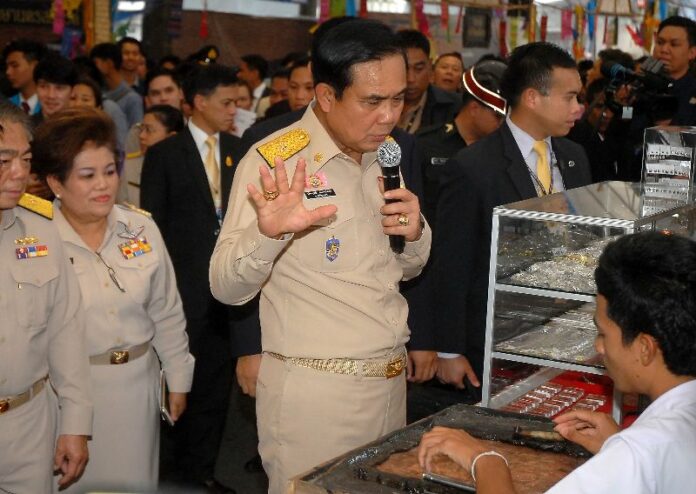 BANGKOK — Junta chairman and Prime Minister Prayuth Chan-ocha said he will accept Thailand's ranking in the United States' annual Trafficking in Persons (TIP) report, which is scheduled for release tonight.
Gen. Prayuth said he has already been unofficially informed about the results of the 2015 assessment, but told reporters that courtesy forbids him from making the announcement before American officials.
"It's a courtesy to let the people who set the rules speak about this," he said. "We [should] only speak about what we have done."
In last year's report, Thailand was downgraded to Tier 3, the lowest rank possible, for failing to meet the minimum requirements to combat human trafficking across its borders.
Thai officials have expressed hope in recent months that the country will be upgraded in this year's report, which is scheduled for release at 9pm Thai time on Monday, because of the government's efforts to crackdown on trafficking networks since the May 2014 coup that brought Gen. Prayuth into power.
Over the past year, Gen. Prayuth's military government has strengthened anti-trafficking legislation, launched measures to encourage the registration of migrant workers, and passed laws aimed at regulating Thailand's fishing industry, which for years has been staffed by hundreds of thousands of men trafficked from neighboring countries in Southeast Asia.
Last week, 72 people were indicted on human trafficking charges following a crackdown on smuggling networks in southern Thailand that began in June 2015. However, it is unclear whether the June crackdown will be considered in this year's TIP report, which normally only assesses actions taken before March.
Today, Gen. Prayuth said he is not focusing on the upgrade, only on the results of his government's anti-trafficking efforts.
"I do not have any expectations about whether we will be upgraded," he said. "I only expect that what we have done will bring some successes."
He continued, "It won't take a day, a month, or a year to fix the problems. It will take time to [fix] the entire system. I am confident that I have made improvements in every area, but it depends on the United States, whether they trust or have confidence in us. We respect their decision, because the United States sets the rule."
When a reporter asked whether Gen. Prayuth believes Thailand's reputation will be affected if the country remains in Tier 3, the junta chairman said, "If it turns out that way, I will acknowledge that. But I hold it that I have not yet been officially informed about it. But no matter what the result will be, I will accept it."
Gen. Prayuth also told reporters he cannot comment any further until the report is released.
"However, I am confident in what I have been doing," he said. "If I wasn't, I wouldn't have done all those things. I am confident that I have done better than [previous governments]. But whether we will get [the upgrade] or not depends on the deliberation of the US. We have to accept the rules."