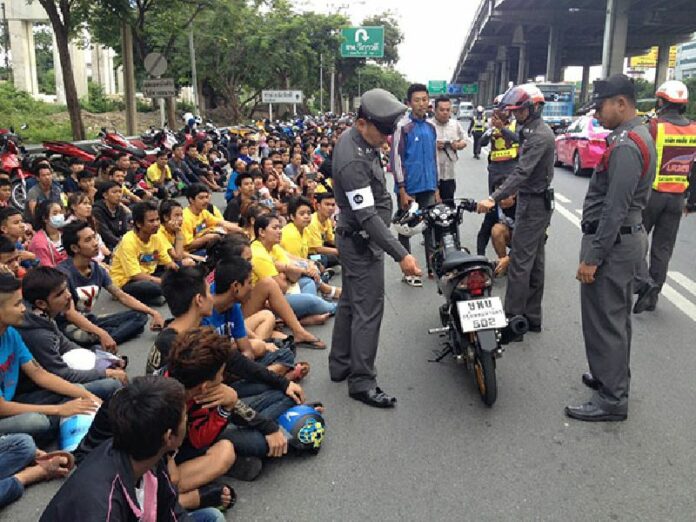 BANGKOK — Nearly 400 motorcyclists were detained after they assembled for a charity ride in Bangkok without permission on Sunday.
Officers were dispatched to Viphavadee–Rangsit Road at around 6:15 am yesterday after motorists complained a large group of bikers were blocking the outbound lanes of the road, according to Police Lt. Col. Sanong Saeng Manee, deputy commander of the Viphavadee Police Station.
Sanong told reporters police initially suspected that the bikers were dek van – young street racing gangs that regularly organize illegal races in Thailand's major cities at night.
Around 30 police officers arrived at the scene and detained a total of 361 motorcyclists in the group.
However, Wutthichai Petchkaew, who identified himself as the leader of group, said his group was not a street racing gang. Instead, Wutthichai, 27, told reporters that the group was assembling for a ride to Nakhon Nayok province to raise funds for a charity project.
According to Wutthichai, his group organized a similar charity drive from Bangkok to Chonburi province in the past. More than 1,000 people joined the ride, and the group collected around 50,000 baht to donate to relief efforts in Nepal, he said.
"We have no intention to cause any nuisance," Wutthichai added.
Speaking to reporters, Sanong said police eventually established that the bikers were not dek van.
"They had no intention to race. Their intention was to join an activity in Nakhon Nayok," Sanong said.
But some of the detained bikers will face charges for traffic violations such as not carrying a driver's license, not wearing a helmet and modifying their motorcycles without permission, said Police Lt.Gen. Prawuth Thawornsiri, spokesperson of the Royal Thai Police.
He also advised other biker groups to ask for permission first before organizing any large gathering.
"If they want to organize this kind of activity, they should first ask for permission from the Traffic Police, instead of gathering without permission like this," Prawuth said.
The spokesperson added that police were also rehearsing a mass bicycle ride event on Viphavadee Road close to where the 300 bikers were gathering. The event, called Bike For Mom, is being organized by the Thai government on behalf of Crown Prince Vajiralongkorn, and will take place on 16 August.
Authorities have been struggling to crack down on dek van gangs around the country for years.
In the latest effort, the Thai military junta issued an order on 23 July granting security officers authority to break up any suspected groups of racers dek vans before any race begins. Under existing traffic laws, police could only take action after a race had already started.
To reach us about this article or another matter, please contact us by e-mail at: [email protected]