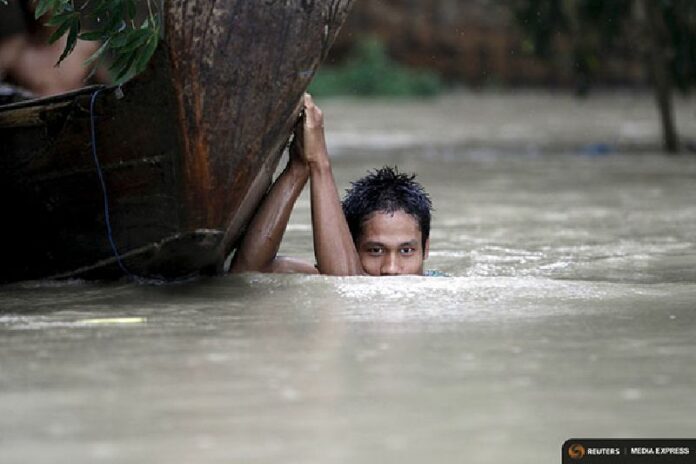 BANGKOK — Myanmar's government has smoothed travel for aid workers to flood-hit areas of the country, even giving them lifts by helicopter, boat and plane – in sharp contrast to the restricted humanitarian access after a massive cyclone in 2008.
After Cyclone Nargis, which ploughed across Myanmar's southern delta region in May 2008, killing nearly 140,000 people, it took three weeks for the then-military government to grant access to international aid workers, and even then under tight restrictions.
The current monsoon floods, that began in late June, have prompted an urgent response from Myanmar's reformist government which appealed for international help on Monday, days after the crisis escalated with lashing rains.
"The fact that the government has made a call for international assistance is an indication that they're more receptive to support from the international community," Patrick Fuller, regional spokesman for the International Federation of Red Cross, told the Thomson Reuters Foundation.
The floods, which have killed 88 people and affected 330,000 across the country, are the first big test of the ability of the reformist government – which came to power in 2011 – to coordinate humanitarian assistance.
Mike Bruce, spokesman for Plan International, said there had been no reports of the government hindering access for international aid agencies or their staff.
Under normal circumstances, international staff of aid agencies working in Myanmar need travel authorizations to go to various parts of the country, and that process can take days, if not weeks, said Pierre Peron, spokesman for the U.N. Office for the Coordination of Humanitarian Affairs.
"They (government officials) have understood that in a crisis like this, you need to be able to get staff to the affected areas as quickly as possible, and humanitarian staff may be coming from other countries, in surge," Peron said.
"They are facilitating those travel authorizations (to allow) staff to get on planes and travel to locations that they need to go to… it is much easier and much quicker."
Practice and Preparedness
Peron attributed the faster response to a new emergency operations center set up last year, and recent drills with U.N. agencies, non-governmental organizations and the government.
The operations center – set up with support from the United States and Japan – has helped with travel authorizations and has played a critical role in managing the vast amounts of flood data, Peron said.
"It can often be quite chaotic when you get lots of information from different sources and different parts of country," he said.
"Being able to prioritize and collate that information to be able to use that to respond most effectively and be sure you're coordinating the most important humanitarian needs – that is an important role the EOC is playing."
Peron said the practice exercises, with earthquake and cyclone scenarios, put in place contingency plans and identified relevant contacts at government ministries.
"If you need a helicopter to get to a certain place, do you know who to speak to to get that to happen? Thanks to the simulation exercises, we do," Peron said.
Aid workers were bracing for secondary flooding in the low-lying southern delta region as flood waters flowed into the area, swelling rivers to dangerously high levels. Authorities on Thursday urged people to leave the delta.
The U.N. children's agency UNICEF appealed for $9.2 million (323.3 million baht) to fund humanitarian assistance for children affected by the floods, many of them already poor and vulnerable.
The World Food Programme, the U.N. agency that provides food assistance, said the delta region would experience flooding in three to five days.
"We are still in the midst of this disaster," Fuller of IFRC said, adding that the number of people affected was likely to rise.
Story: Thomson Reuters Foundation / Alisa Tang
To reach us about this article or another matter, please contact us by e-mail at: [email protected].