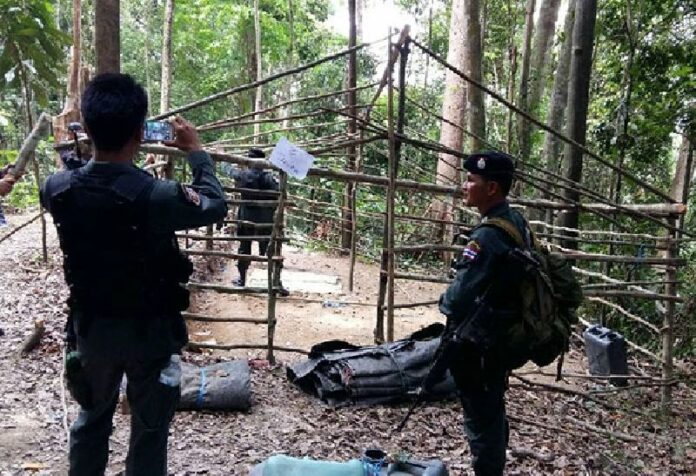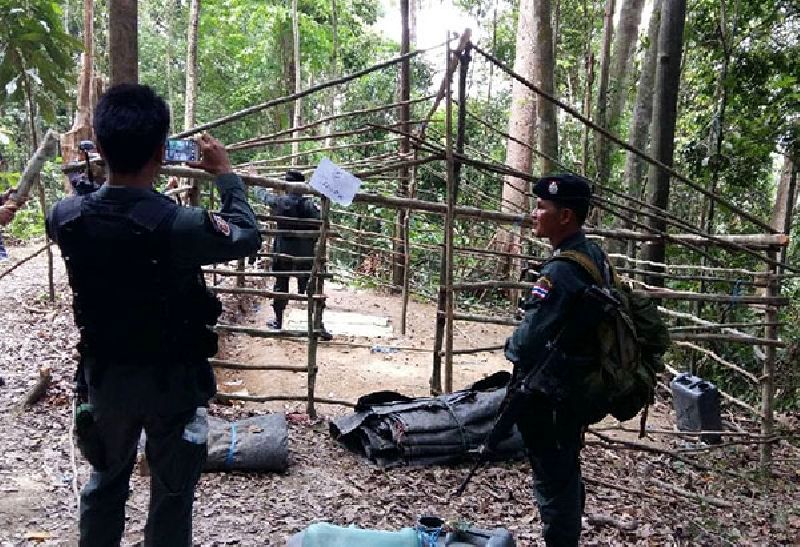 SONGKHLA — A criminal court today approved arrest warrants for 68 more people accused of links to a human trafficking syndicate in southern Thailand, 12 of which police said are already in custody.
Of this latest batch of suspects to emerge since security forces discovered makeshift stockades used to hold people in horrifying conditions in the jungles bordering Malaysia, 26 stand charged of human trafficking and 42 with money laundering, according to Police Maj.Gen. Paween Pongsirin of the Ninth Region Police today.
"Twelve people have already been arrested," Paween said today in Songkhla province, where the slave camps were found in May. "They are part of the human trafficking network in Satun and Ranong provinces."
Today's announcement brings the total number of suspects announced in the case to 187.
Thai security forces inspect a just-abandoned jungle stockade where human traffickers kept captives under dire conditions in this 5 May file photo.
Paween did not identify any of the new suspects by name but added the dozen already in custody would appear at 2:30 pm this afternoon at the anti-trafficking task force's Songkhla headquarters.
Officials said traffickers used the camps to detain foreign refugees and immigrants until their families could pay ransom money. Investigators discovered mass graves around the camps thought to hold those who did not survive the grim conditions or failed to secure ransom funds and were executed. Numerous media reports have since offered first-person accounts of routine gang rapes, beatings and deaths of captives in the camps.
Since discovery of the sites, 187 arrest warrants have been issued. Those charged with human trafficking include local administrators, bureaucrats, businessmen and one senior adviser to the Royal Thai Army.
The victims were mostly Rohingyas and Bangladeshis fleeing poverty and persecution in their homelands. Journeying on boats from the Bay of Bengal, most sought passage to Muslim-majority Malaysia but were intercepted by the traffickers. Many Thai security officers have turned a blind eye to the operations for years; some have accepted bribes from the brokers, according to a number of media reports.
But the current military government, which came to power by staging a coup in May 2014, has pledged to step up action against human smuggling and trafficking operations.
Speaking to reporters today, Police Maj. Gen. Paween said 72 suspects in the trafficking ring are currently facing prosecution in the court.
Authorities said only one witness has provided provided information in the case so far
"We are working on the second witness," Paween said.
In June police announced it would take them five years just to evaluate more than 200 witnesses in the case.
Related stories:
Examination of Human Trafficking Witnesses to Take 5 Years: Police
Thai Govt's Boat People Policy 'Illegal, Helps Trafficking Trade'
Mass Grave Found at Thai Trafficking Camp
To reach us about this article or another matter, please contact us by e-mail at: [email protected].