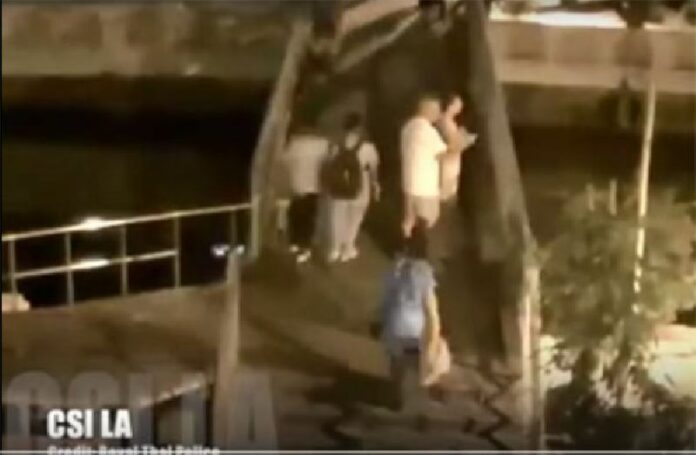 BANGKOK — Less than 30 minutes after a bomb exploded Monday night at the Erawan Shrine, a man dropped a bag into the water next to a footbridge near Sathorn Pier that could have been the device which exploded harmlessly the next afternoon.
Twenty-six minutes after the first bomb went off, a security camera captured a man carrying a plastic bag onto the footbridge underneath Saphan Taksin at 7:21pm on Monday, less than 16 hours before an explosion in the water there sent a throng of people scrambling – but caused no injuries.
Police initially claimed someone threw it down from a bridge passing over the Chao Phraya River. As recently as Thursday, investigators were simulating such a cause by throwing bricks from Saphan Taksin down toward the footbridge, which connects to a pier on the river frequented by tourists.
Investigators on Thursday use a brick to simulate their theory Tuesday's blast came from a device thrown from Saphan Taksin.
Police spokesman Prawuth Thawornsiri said they haven't ruled that theory out yet.
"At this moment, I cannot yet confirm that the footage of Sathorn pier, which is claimed to capture the suspect, is indeed evidence," he said. "And let me remind you that any dissemination of evidence has to be formally approved by Royal Thai Police first."
The video was posted to the CSI LA Facebook group, the administrator of which claimed it was furnished to him by police. It incudes what appears to be an official police timeline indicating the timecode indicated in the video is off by several minutes.
CSI LA is a community of amateur keyboard sleuths which came together in response to frustration over 2014's Koh Tao murder investigations to crowdsource information.
Prime Minister gen. Prayuth Chan-ocha said yesterday the Sathorn and Erawan Shrine bombings were carried out by the same group of people.
---
Bangkok Shrine Bombing: Those Who Died
---
"I think it's a network. It's connected – Erawan Shrine and Sathorn Bridge," he said without elaborating. "They have their targets. I'd like to warn them to surrender themselves."
In the footage, a man in a blue shirt wearing a messenger bag walks onto the footbridge carrying what appears to be a plastic bag of some weight. As foot traffic continues behind him over the busy bridge, he sets the bag down at its edge, pulls out his phone and uses it for awhile, appearing to speak into it for some moments. He puts the phone away, then appears to receive an incoming call.
Nearly three minutes after loitering on the bridge, he retrieves the bag, moves closer to the center of the bridge and sets it down again. While gazing out over the Chao Phraya River, he subtly nudges it over the side and into the water with his foot then immediate leaves the bridge from the way he came.
At 1 pm on Tuesday, something exploded in the water, the force of which sent an eruption of water in all directions from the same spot where the bag was dropped in.
A number of commentators have suggested the blue bag carried onto the footbridge resembles the bag the suspected Bangkok bomber carried in and out of the Erawan Shrine.
The suspected Bangkok bomber leaves the Erawan Shrine moments before the blast carrying a blue plastic bag.
The bombing came less than 16 hours after Monday's powerful blast killed at least 20 people, mostly foreign tourists at the Erawan Shrine, a popular tourist destination in the commercial heart of the Thai capital. More than 150 others were left injured.
Authorities have gone back and forth over whether they think the two attacks were linked.
"We believe that the perpetrators belong to same group," outgoing police chief Somyot Pumphanmuang said hours after the blast. Authorities later backed away from the position, saying there were "similarities" between the bombs' materials.
What appears to be the same man who dropped the bag into the water has been found in other security camera footage.
About 11 minutes before stepping onto the bridge, he was walking south on the west side of Sathorn Road toward the river and pier, if the time code shown in the video is accurate.
He's walking from the same direction as a neighborhood where motorcycle taxi drivers said they gave rides to a man several times between December and February who matched photos from immigration and a possibly fake passport this week.
He never takes his eyes off of his phone as he steps across Charat Wiang Road. In view of a CCTV camera, he stops, sets down the plastic bag and readjusts his messenger bag to operate his "phablet" type phone using two hands. He appears to initiate a telephone call before picking up his the bag and continuing to walk south on Sathorn Road.
Seen continuing from a CCTV pointed south in the same location, he walks with his head is tilted into his phone the entire time, as if he is trying to hear something over the traffic.
UPDATE: Story updated with comment on footage from police spokesman.
Related stories:
Seen Often on Sathorn 10, Suspect Thought to Use Fake Turkish Passport
Leaked Police Report Tracks Lead Suspect Before, After Bombing
Bangkok Bombing: Police Turn to Interpol as Investigation Stalls
1M Baht Bounty for Bangkok Bomb Suspect
Police Widen Hunt for Bombing 'Network'
Bangkok Shrine Bombing: Those Who Died
Day in Photos: Expressions of Grief, Unity After Terror Attacks
Briton Dies in Bangkok Shrine Bombing
Despite Lack of Evidence, Thai Media Points Blame at Uighurs
Tourists Narrowly Escape Second Bangkok Bombing in 24 Hours
Bangkok Shrine Bombing: Police Hunt Backpack Man
Tourists Among 19 Killed by Bomb at Bangkok's Erawan Shrine
To reach us about this article or another matter, please contact us by e-mail at: [email protected].