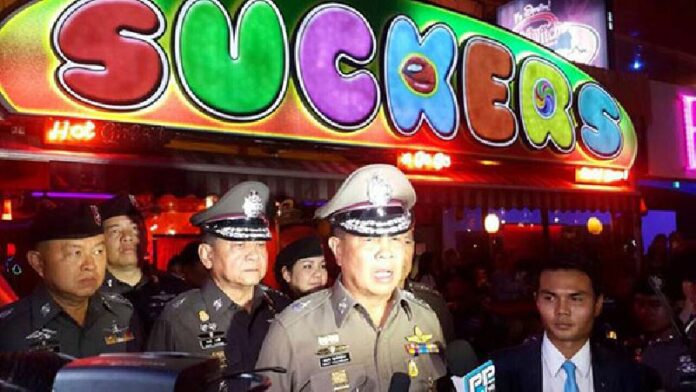 BANGKOK — Six days after a deadly bomb killed at least 20 people in Bangkok, police said yesterday their prime suspect in the attack may have successfully fled the country.
While Thailand's top cop blamed outdated equipment for the seemingly stalled-out hunt for the attacker behind the Erawan Shrine bombing, a police spokesman yesterday said the bomber had likely carefully timed the attacks so that he wouldn't have lingered in the country.
"I suspect that he may have left," Police Lt. Gen. Prawuth Thawornsiri told Channel 3, according to an Associated Press report. "But we will keep searching in case we can find others who may be in the country or find clues, evidence and witnesses who may have seen him."
Bangkok police chief Lt. Gen. Sriwarah Rangsipramnakul, put to the same question, simply replied, "It's difficult to answer that question."
With no clear suspects identified or motives assigned, outgoing national police chief Somyot Pumpanmuang faulted the equipment available to investigators.
"If we are lucky, we will be able to catch the perpetrator," Somyot said. "The delay in our investigation is not caused by our incompetence. It is because we don't have modern equipment to aid our work like police in foreign countries."
He added that while they are requesting equipment from other countries, they will not allow any representatives from other nations to "interfere" with their investigation.
Meanwhile the fruits of that investigation which have come to light mostly involve piecing together the whereabouts of the shrine bombing suspect before the attack, while leads emerged during the weekend about another suspect behind a bomb that exploded near the Sathorn Pier.
It emerged yesterday that a taxi driver has told police he gave a ride to the suspected Erawan bomber, a man seen leaving a backpack inside the shrine minutes before the blast, to Hua Lamphong Railway Station on the night of the blast.
Police spokesman Prawuth said the driver carried the bomb suspect from the Yannawa area to Hua Lamphong railway station. That would place him near to where a tuk-tuk driver said he picked up the suspect near a car repair shop and took him to the Grand Hyatt Erawan Hotel.
Sriwarah, chief of metropolitan police, said the taxi driver has been questioned but declined to elaborate.
"We have already summoned the taxi driver who picked up the suspect for interrogation, but I cannot disclose any information, because right now we are still collecting evidence and witnesses testimonies," Sriwarah said yesterday.
No one has been publicly identified as a person of interest or arrested since investigators released CCTV footage showing the yellow-shirted man walk into Erawan Shrine. No one has taken credit for the attack.
Much of the investigation has centered around an area southwest of Lumpini Park, around lower Sathorn and Silom roads.
Several motorcycle taxi drivers on Soi Sathorn 10 have said that between December and February they gave numerous rides to a man who matched passport and immigration photos shown to them by investigators.
Both a motorcycle taxi operator and hotel receptionist visited by authorities said the investigators believed it to be a fake Turkish passport.
On Sunday footage emerged of a man dropping a bag into the water near Sathorn Pier less than 30 minutes after the Erawan Shrine bomb exploded. At 1pm the next day on Tuesday, a bomb detonated under water in the same spot. No one was hurt.
CCTV footage showed the man walking down lower Sathorn Road toward the pier about 15 minutes after the shrine bombing.
Meanwhile, a religious service planned to commemorate the bombing victims has been canceled due to police's security concerns.
The memorial service was scheduled to be held by the Sangha Supreme Council in front of Amarin Plaza – next to Erawan Shrine – at 5.30 pm today. However, the Council said in a statement that the event has been indefinitely postponed.
According to the statement released to the media, the Sangha Council explained it decided to cancel the memorial service because Police Gen. Somyot said authorities remained worried about the security situation.
Somyot had expressed concern that many people would join the service, making it difficult for police to maintain security, it read.
The cancellation came less than 24 hours after the military government released a statement assuring foreigners the situation is under control.
Related stories:
Man Dropped Bag into Water Night Before Sathorn Pier Blast
Seen Often on Sathorn 10, Suspect Thought to Use Fake Turkish Passport
Leaked Police Report Tracks Lead Suspect Before, After Bombing
Bangkok Bombing: Police Turn to Interpol as Investigation Stalls
1M Baht Bounty for Bangkok Bomb Suspect
Police Widen Hunt for Bombing 'Network'
Bangkok Shrine Bombing: Those Who Died
Day in Photos: Expressions of Grief, Unity After Terror Attacks
Briton Dies in Bangkok Shrine Bombing
Despite Lack of Evidence, Thai Media Points Blame at Uighurs
Tourists Narrowly Escape Second Bangkok Bombing in 24 Hours
Bangkok Shrine Bombing: Police Hunt Backpack Man
Tourists Among 19 Killed by Bomb at Bangkok's Erawan Shrine
To reach us about this article or another matter, please contact us by e-mail at: [email protected].