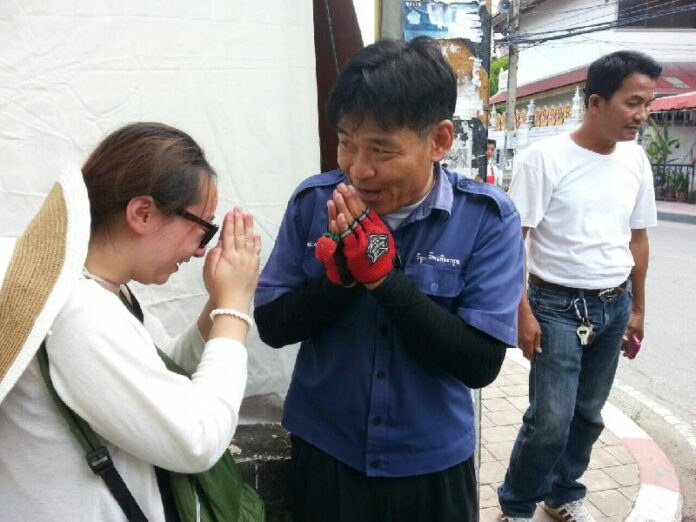 CHIANG MAI — A Chinese woman got her purse back thanks to a tuk-tuk driver who wrestled it back from a thief in Chiang Mai.
When the thief, whose arrest was announced today, rode up on a motorcycle to snatch the unidentified tourist's purse as she was cycling in the northern city on Thursday, he probably wasn't expecting nearby tuk-tuk driver Withoon Wattanakijjakul to come racing after him to recover the bag.
Withoon eventually caught up with the thief and struggled with him until he had snatched the handbag bag from the thief, who then fled the scene. Police today announced they'd apprehended 23-year-old Thanawat Saensuwan on suspicion of the crime after tracking him down using security camera footage.
Police said they used CCTV footage at left to track down suspect Thanawat Saensuwan to his home at at right, where they say has confessed to stealing the tourist's bag.
"The perpetrator committed the act as though he had no fear of the law," Police Col. Weerayuth Prasopchokechai. "He did it in the middle of the city, during daytime."
Weerayuth said the man confessed, saying he committed the crime to support his family as he is unemployed.
Chiang Mai, a historic city in northern Thailand, has been a popular destination for Chinese travelers in recent years.
To reach us about this article or another matter, please contact us by e-mail at: [email protected].